Press release
Update on efforts to bring Russia and Ukraine into talks
Foreign Secretary William Hague underlines difficulties but says there is sufficient willingness to continue trying to bring Russia and Ukraine into talks.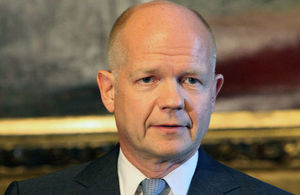 Today in Paris Foreign Ministers from UK, US, France and Germany met first with the Russian Foreign Minister and then with the acting Ukrainian Foreign Minister.
Speaking after the meetings, the Foreign Secretary answered questions:
Face-to-face meetings between yourselves, your counterparts from the United States, France, Germany and of course Sergei Lavrov must be seen as progress?
Well it's too early to say that a lot of progress has been made. We came here, as you know, to try to make sure that Russia and Ukraine are engaged in talking to each other and negotiating with each other in a dialogue with each other and with other nations.
I think a lot more progress is needed yet but there is a sufficient willingness to try to find a common framework that would bring Ukraine and Russia into discussions with each other and with other nations such as ours, so a sufficient willingness to continue with those efforts over the coming days. And so we will continue with them. Secretary Kerry has of course been very active in this and he will be continuing this effort, as we all will, through all our diplomatic channels and direct contact with each other over the coming days but these meetings are very difficult. As you have seen, we have been through a whole series of meetings today in different formats, with different combinations of people.
The issues are very difficult. Russian and Ukraine both have things that they have taken away to study further and think about, so there is some willingness to do that but we are certainly not there yet with such a framework. There will have to be further discussions.
The ambition, however unrealistic it might have been, I know this morning when we spoke, you didn't have a whole load of optimism. The ambition was to get the Russians and the Ukrainians speaking in some form, if not in the same room. Has today been a failure therefore?
No because this has been time well spent in that we have helped to create that willingness to try to find a framework and we have had extensive discussions with Sergei Lavrov, the Russian Foreign Minister and with the acting Foreign Minister for Ukraine and we have not yet had them in the same room together but of course this is the point of what we are trying to achieve. So further work needs to be done on that. We have to remember that the situation on the ground remains the same, remains tense, remains very dangerous so this remains very urgent work. And it remains clear that if these issues cannot be resolved there must be, and there will be, costs and consequences for Russia of having taken this action and for having violated the independence and the sovereignty of Ukraine.
So all we can say is there has been sufficient willingness to make some progress to try to find a framework and we all think it is worth continuing with those efforts.
Do you sense the Russians softening slightly?
I don't think anybody has softened in their position which is why these meetings are very difficult. And in the case of Russia, clearly further consultations and further discussion and further proposals are required within their government. So I do not want to raise any expectations it's very difficult work. These meetings are very difficult indeed but it is worth persisting with them. What is at stake is so enormous that it is very important for us to continue our diplomatic efforts. So in different places, through different channels, sometimes face-to face, sometimes by telephone, this will be continued over the coming days.
Further information
Follow the Foreign Secretary on facebook and on twitter: @WilliamJHague.
Follow the Foreign Office on twitter.
Follow the Foreign Office on facebook & google+.
Published 5 March 2014