Up to 1,500 extra medical training places announced
Health Secretary announces increase in medical training places from September 2018.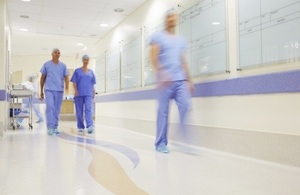 The number of medical training places available to students each year will be expanded to ensure the NHS has enough doctors to continue to provide safe, compassionate care in the future, Health Secretary Jeremy Hunt announced today (4 October 2016).
From September 2018, the government will fund up to 1,500 additional student places through medical school each year. Students will be able to apply for the extra places from next year in order to take them up from the academic year 2018/19.
The Health Secretary also pledged to reform the current cap on the total number of places that medical schools can offer, which is set at just over 6,000 a year. Currently, universities can only offer places to half of those who apply to study medicine, but this new measure will allow all domestic students with the academic grades, skills and capability to train as a doctor to have the chance to do so.
Consultation
The government will consult on how these proposals can be implemented. We will also also explore ways to ensure graduates provide a return on taxpayer investment to the NHS through, for example, a minimum period of NHS service.
Health Secretary Jeremy Hunt said:
As well as delivering higher standards today, we need to prepare the NHS for the future.

Currently, we rely heavily on doctors from overseas – who do a fantastic job but are often taken from developing countries that need them – as well as expensive agency staff. By dramatically expanding our supply of home-grown doctors, we will ensure the NHS always has the doctors it needs.
Local performance rating data
Ratings showing the performance of different local areas for cancer diagnosis, survival and waiting times have also been launched today.
The data will be available on MyNHS.uk, allowing people to search using their postcode to find their local clinical commissioning group's (CCG) rating for early diagnosis, one-year survival, patient experience and performance against the target waiting time of 62 days from GP referral to treatment.
The site will show which CCGs are performing well and which need to improve.
The measure is part of the government's drive for greater transparency and builds on previous commitments to improve cancer diagnosis and care.
Published 4 October 2016