Press release
Unlocking private investment will get councils building
Councils should look to the private sector to help make taxpayers' pounds go further, an independent review has found.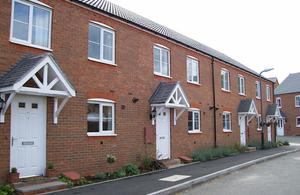 In their interim report, Natalie Elphicke and Keith House highlight how innovative councils are already levering private finance to help deliver the homes their communities – and how more councils could follow in their footsteps.
The building of new council homes is at a 23-year high – but today's report (31 July 2014) suggests the potential for even more to be done.
Unlocking the potential of private investment
Across the country councils are making housing their top priority as improved economic growth creates the confidence and conditions for building more homes.
In their report today, Ms Elphicke and Mr House argue that councils could significantly boost their housebuilding plans using more private sector investment.
Natalie Elphicke said:
In this next stage of the review we will focus on how councils can access and harness private finance. In particular, strengthening the relationship between councils, industry experts, business and private finance could help councils to realise their housing ambitions and support their communities.
Keith House said:
The response to our call to evidence has been excellent and councils across the country are showing how they are thinking more innovatively and ambitiously to put housing on the centre stage.

The next stage of the review will examine the challenges the local authorities have said can temper their ambitions and look at the ways that these can be overcome.
Housing Minister Brandon Lewis said:
Thanks to our long-term economic plan, we're creating the conditions to enable councils to make housebuilding their number one priority – and we're already seeing the results, with council housebuilding now at a 23-year high.

But this report from Natalie Elphicke and Keith House clearly shows there's untapped potential out there for councils to secure private investment in their plans and deliver the homes their communities want.

By doing this, we can change plans on paper into real properties, helping families move into new homes and creating jobs along the way.
Greater transparency to lead to more homes
In their report Mrs Elphicke and Mr House also highlight the need for greater transparency by councils, to lead to more housebuilding.
This includes ensuring people in the local area can see the wider benefits to the community of new homes and how they meet assessed local housing need, but also greater transparency over the land and assets available for housebuilding – including council land.
The review will now also examine how best to boost skills, capacity, and the pace of housebuilding by councils, and how smaller sites can be made available for more homes.
Photo courtesy of Lydia under Creative Commons copyright.
Further Information
Review of local authorities' role in housing supply: progress update is published today.
The report also finds that councils could also look to boost skills, capacity and the pace of building in their area, as well as using smaller sites to deliver more homes and this, as well as securing private sector investment, will now be the focus of Ms Elphicke and Mr House's work over the coming months.
Over 250 participants have responded with ideas, evidence and case studies on their challenges that may stand in the way of housing development.
On 30 January, the government announced that Natalie Elphicke and Keith House would lead an independent review into the role that councils can play in boosting housing supply.
The reviewers will report, jointly to the Secretary of State for Communities and Local Government and the Chief Secretary to the Treasury, by the end of 2014.
Natalie Elphicke is chair of Million Homes, Million Lives. It works with councils and housing associations for more better-quality affordable housing that is built in the right places. She is also non-executive director of Principality Building Society. She is a qualified barrister and solicitor, and previously a city law firm partner specialising in housing finance.
Keith House is a Board Member of the Homes and Communities Agency, and Leader of Eastleigh Borough Council. While at Eastleigh Council he oversaw an innovative approach to housing which saw the council establish a company to enable the delivery of housing across a range of tenures. Keith is also the Deputy Chair of the Local Government Association Environment and Housing Board.
Today's report could build on the government's successful approach of attracting public and private investment into housebuilding which has seen:
council housebuilding reach at a 23-year high
overall housebuilding at its highest level since 2007
the government on track to deliver the fastest rate of affordable housing in 2 decades
This has been achieved through:
the government using its strong record on economic stability to underwrite up to £10 billion additional borrowing to housing providers to invest in building more affordable homes
the government being on track to deliver the fastest rate of affordable housing in 2 decades through a 170,000 £19.5 billion affordable homes programme to 2015 and a planned further £23 billion between 2015 and 2018
setting aside £300 million to support extra public borrowing for council homes through Councils' Housing Revenue Account, of which £60 million has been allocated for 1,000 extra council homes; bidding for the next round is already underway
Additionally, the government has identified enough formerly-used surplus public sector land for 100,000 homes and today's report highlights how councils could publish details for developers and the community alike of the council-owned land that could be used for housebuilding.
Office address and general enquiries
2 Marsham Street
London
SW1P 4DF
Contact form http://forms.communiti...
General enquiries: please use this number if you are a member of the public 030 3444 0000
Published 31 July 2014