News story
University brings massive boost to earnings and the economy
Two reports show that university study delivers huge benefits to both graduates' earnings and the UK economy.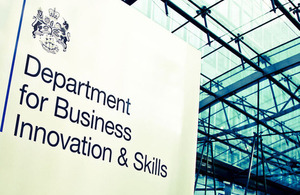 Studying at university delivers huge benefits to both graduates' earnings and the wider UK economy, according to 2 Department for Business, Innovation and Skills (BIS) reports published on 15 August 2013.
As hundreds of thousands of students get their A level results, new data from the 'Impact of University Degrees on the Lifecycle of Earnings' shows female students who progress to university can expect to boost their lifetime earnings by £250,000. Male students can expect to increase their lifetime earnings by £165,000.
The new report the 'Relationship Between Graduates and Economic Growth Across Countries', shows that university study contributes significantly to the economy. An increase in the number of graduates accounts for:
around 20% of the UK's economic growth between 1982 and 2005
at least a third of the increase in labour productivity from 1994 to 2005
Universities and Science Minister David Willetts said:
As students discover their A Level results this new data highlights just what a great long-term investment university is.
A degree remains one of the best pathways to achieving a good job and a rewarding career - as well as a hugely enjoyable experience for most students.
Published 15 August 2013