University accreditation in Thailand
In preparation for ASEAN economic integration in 2015, British Embassy Bangkok is supporting ASIC on university accreditation in Thailand.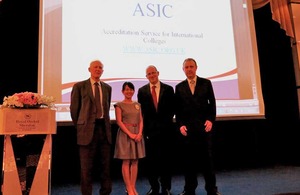 The British Embassy Bangkok worked with the Accreditation Service for International Schools, Colleges and Universities (ASIC) to introduce itself to Thailand's educational institutes.
Recently Mr Bradley Jones, UK Trade & Investment Director gave a speech at a seminar on university accreditation hosted by ASIC. The seminar was attended by presidents and deans from more than 50 universities in Thailand. At the seminar, Prof Dr John Wilson gave an introductory talk on ASIC mission and how it assist international institutions to develop into high quality education providers. Also joining the event was Mr Andrew Elliott, Director of Operations, ASIC Asia.
ASIC is an independent British-based accreditation agency which currently accredits a number of educational institutions in the UK, Asia, and in other parts of the world. ASIC extends accreditation to schools, colleges, universities and training institutions which satisfy a range of stringent quality criteria in all aspects of their operations. Well-known academic institutions that have been accredited includes London International College of Management, University of Atlanta (USA), ASIA Metropolitan University (Malaysia), Institut Europèen des Affaires (France) and Amity Global Business School (Singapore).
ASIC is also recognised by the Home Office, is a member of CHEA International Quality Group (CIQG) in USA and is listed in their International Directory and has recently been accepted by the BQF (British Quality Foundation).
Further information
Published 13 May 2013