World news story
Universal Periodic Review 31: Saudi Arabia
This UK statement was delivered during the 31st session of the Universal Period Review during the discussion of Saudi Arabia's Human Rights Record on 5 November 2018.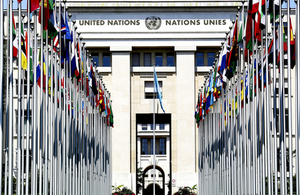 The UK is gravely concerned about the deteriorating human rights situation in Saudi Arabia. Progress on women's rights has been overshadowed by severe constriction of political space, mass arrests of human rights defenders, increased use of terrorist courts for political dissidents, and continuing extensive use of the death penalty. But most concerning is the murder of Jamal Khashoggi.
Recommendations:
1) Ensure comprehensive and transparent investigations into the murder of Jamal Khashoggi; that those responsible are held to account; and that measures are put in place to prevent any possibility of recurrence, as pledged by the Minister for Foreign Affairs.
2) Restrict the use of the Special Criminal Court to cases that fall within internationally accepted definitions of terrorism and permit journalists and accredited diplomats to monitor trials.
3) Strengthen legal protection for migrant workers by prosecuting employers who confiscate employees' passports and providing legal redress for trafficking victims.
Published 5 November 2018