Universal Credit will support young people in work
Young people will receive greater incentives to get into work under Universal Credit.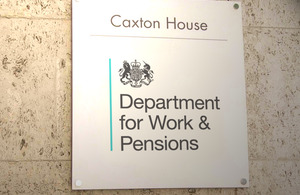 Young people will receive greater incentives to get into work under Universal Credit, Minister for Welfare Reform Lord Freud said today (8 June 2012).
For the first time under-25s will see in-work benefit support when they get a job – ensuring they are better off in work than on benefits.
A single person under 25 working 35 hours a week at the National Minimum Wage could be around £15-£20 a week better off under Universal Credit.
Lord Freud said:
Universal Credit will ensure that work pays for young people and that remaining on benefits will no longer be seen as an attractive alternative to getting a job.

This change will ease the difficult transition from benefits to work and will reinforce our efforts to get people off benefits and into jobs.
Currently single young people under 25 are not generally eligible for in-work support from Working Tax Credit and can face a severe withdrawal of benefits when they go into work.
The changes under Universal Credit will see benefits withdrawn more slowly as a person moves into work - which ensures they know that they are better off in work than claiming benefits.
The proposals are one of a number of initiatives to be published in draft regulations which will ensure work pays under Universal Credit.
Currently single people and couples without children over 25 can claim Working Tax Credit if they work at least 30 hours a week and earn up to around £13,000 a year (£250 a week).
The government's work to help more young people into employment includes:
£1 billion Youth Contract:
250,000 work experience places
160,000 cash payments for employers to recruit young people
20,000 incentive payments for Small and Medium Enterprises to take on their first apprentice
£126 million to support the hardest-to-reach 16 and 17 year olds
Work Programme:
Faster entry for young people
Up to a third more money for providers if they find work for young people
Apprenticeships:
440,000 apprenticeships this year alone
250,000 more over this Parliament than previously planned
Increasing the budget to £1.5 billion in 2012-13
Background:
Universal Credit will be rolled out from October 2013 with approximately 12 to 13 million tax credit and benefit claims transformed into 8 million Universal Credit payments.
From October 2013, tax credits and benefits including Jobseeker's Allowance, Employment and Support Allowance, Income Support, Working Tax Credit, Child Tax Credit, Housing Benefit and Income Support will start to be merged into a single Universal Credit payment.
This means people will receive a single payment each month which will help ensure they will be better off in work than on benefits.
Published 8 June 2012