Press release
Universal Credit – payments and labour market reports published
Research shows the vast majority of Universal Credit claimants are paid on time, and the majority of claimants are confident about managing their money.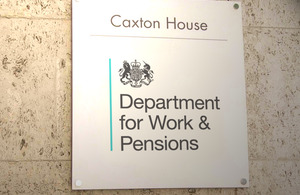 Research also shows Universal Credit offers real personalised service, providing more support to help people find a job. New figures show that Universal Credit claimants are 4 percentage points more likely to be in work within 6 months than people who claimed Jobseeker's Allowance.
Universal Credit payments are designed to mirror the world of work, with monthly payments reflecting the way many working people are paid. Work coaches can support claimants in getting budgeting advice, and research shows that 3 in 4 claimants felt confident about budgeting on a monthly basis.
Today's research also shows that, for full service claimants, nearly 80% receive their first payment in full and on time.
Universal Credit is already in every jobcentre for single claimants, and Universal Credit full service is being gradually rolled out across the country for all types of claimants.
Secretary of State for Work and Pensions, David Gauke said:
Universal Credit lies at the heart of welfare reform which is helping people to improve their lives by supporting them into work.

Universal Credit provides claimants with an unprecedented level of personalised support which takes into account their individual circumstances and makes work pay. We have been rolling out Universal Credit in a careful, safe and controlled way, allowing us to make improvements as we go. We want to ensure that payments are made on time and that people can take up all the extra support that didn't exist under the previous system.
Read the Universal Credit reports:
Some of the main findings are as follows.
Reports around payment timeliness
Timeliness
There has been an improvement in the payment timeliness figures over the last few months:
in June 2017 92% of claimants received their full payment on time
for all new Universal Credit claimants, around 76% receive their first payment in full and on time
for full service claimants, around 77% receive their first payment in full and on time – this is a positive trend
for new claims there are a number of one-off verification processes that must be completed and these can sometimes be delayed
Advances
Advances can be paid in the initial stages of a claim to help people who have short term budgeting issues. Claimants can receive up to 50% of their monthly entitlement, and we need to be confident they can repay the money. The advances are paid back over the initial months of the claim.
The data shows people are accessing support when they need it:
49% of new claims who were due a payment in June 2017 had an advance paid
45% of full service new claims who were due a payment in the same period had an advance paid
71% of all advances paid were new claim or change in circumstances advances
Waiting days
Waiting days are served, primarily, by those people coming out of employment. A range of groups are exempt from waiting days:
people who are terminally ill
victims of domestic violence
care leavers or 16-17 year olds without parental support
prison-leavers
people who return to Universal Credit within a certain period of time, or who migrate over from legacy benefits within certain time periods will not serve waiting days
Currently the Universal Credit caseload is primarily made up of single childless claimants who are more likely to move in and out of employment than other claimant types, so are more likely to serve waiting days:
as at June 2017, 75% of Universal Credit awards are paid to single people with no children
between May 2016 and June 2017 64% of all households served waiting days
75% of single childless claimants, in the same period, served waiting days
Reports around the labour market
Universal Credit Employment Impact analysis
Universal Credit has a positive impact on employment outcomes. Universal Credit claimants are 4 percentage points more likely to be in work within 6 months than a matched sample of Jobseeker's Allowance claimants
the most recent data is supported by improved data and a larger cohort of claimants – 27,000 Universal Credit claims
Test and learn evaluation – families
Some test and learn evaluation was carried out with families in July 2015 and August 2016. Since this research was done we have improved the service and information available to families. The research found:
Universal Credit claimants had flexible attitudes to work and were confident about applying for jobs
3 in 4 claimants felt confident about budgeting on a monthly basis
Contact Press Office
Press Office
Caxton House
Tothill Street
London
SW1H 9NA
London Press Office (national media and London area enquiries only – not questions about personal claims) 020 3267 5144
Out-of-hours (journalists only) 07623 928 975
England and Wales (local media enquiries) 029 20 586 then 097 or 098 or 099
Scotland (local media enquiries) 0131 310 1122
Follow DWP on:
Published 15 September 2017