Press release
Universal Credit encourages people to look for jobs
Research shows that Universal Credit claimants do more to get into work than jobseekers claiming under the current system.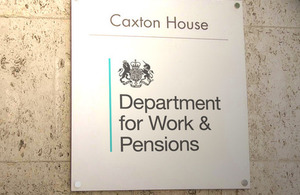 Universal Credit claimants are doing more to get into work than jobseekers claiming under the current system, as research shows the new benefit is providing better incentives to move off benefits.
The first research on Universal Credit published today – following interviews with 2701 benefit claimants – shows that people claiming Universal Credit reported looking for work for 27.1 hours a week on average, compared to 13.6 hours by a comparable group of Jobseeker's Allowance claimants. Universal Credit combines 6 benefits and tax credits into 1, and is designed to encourage claimants to do all they can to get into work.
Secretary of State for Work and Pensions, Iain Duncan Smith, said:
Under Universal Credit, we are beginning to see a cultural shift where people choose to work rather than rely on state support.
It is great that claimants are getting the help they need from our Jobcentre Plus advisers and that they feel confident about managing changes such as monthly payments.
It is vital that we continue to build on the progress made in these pathfinder areas and ensure that Universal Credit makes work pay.
Claimants of the new system also apply for more jobs per week, typically submitting 16 applications for work while Jobseeker's Allowance recipients apply for 11.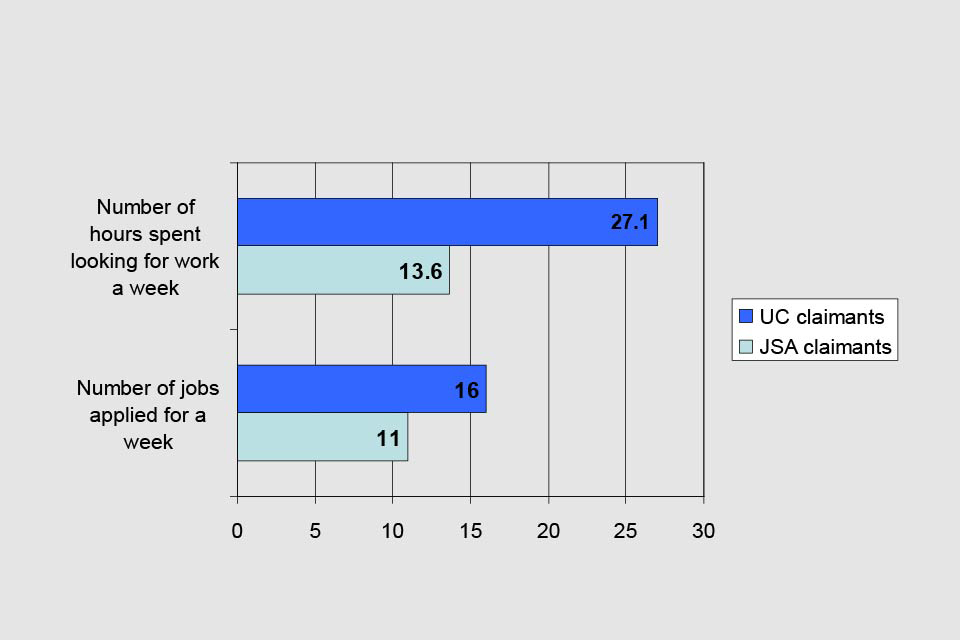 The findings suggest that the stricter jobseeking requirements set out in their Claimant Commitment are encouraging people to look for work. 76% of Universal Credit claimants said that knowing their benefits would be reduced or stopped if they did not complete activities agreed with their work coach made them more likely to search for jobs.
Over three-quarters (78%) of Universal Credit claimants receiving monthly benefit payments feel confident about their ability to budget following this change, and more than a third (37%) who previously claimed Jobseeker's Allowance think being paid monthly is more convenient. Less than 1 in 10 (8%) have sought advances on their benefit payments.
The research also shows:
under Universal Credit, over 8 in 10 people (84%) are confident that they will find work in the next 3 months, compared to 76% of Jobseeker's Allowance claimants
85% of people claiming Universal Credit feel that Jobcentre Plus advisers are providing the necessary support to help them into work
more Universal Credit claimants (78%) say that the benefit system is effective at encouraging people to work than a comparable group of Jobseeker's Allowance claimants (71%)
almost two-thirds of Universal Credit claimants think that the new system provides a better financial incentive to work, as well as better rewards for small amounts of work than Jobseeker's Allowance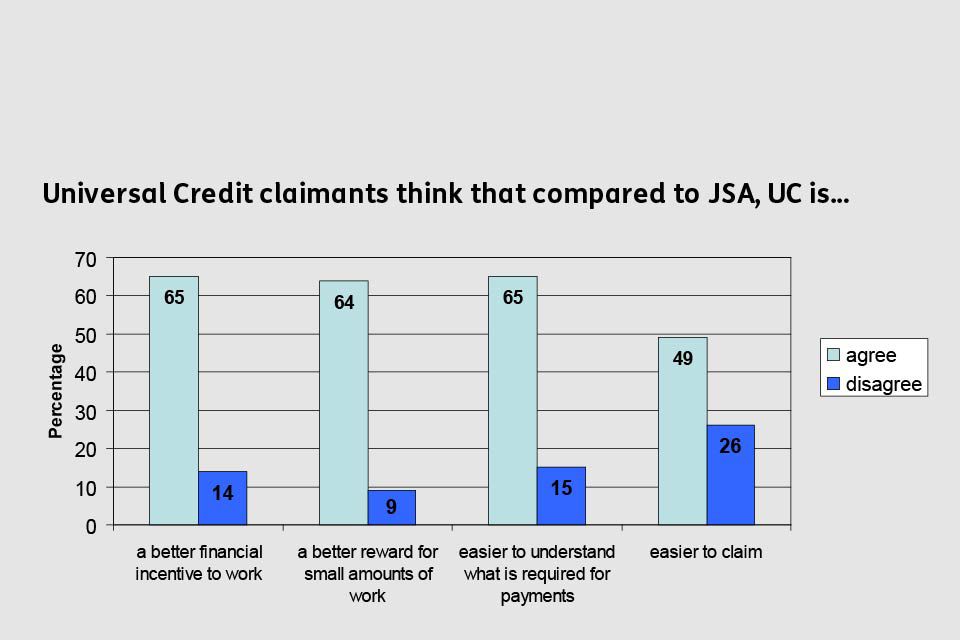 Universal Credit is also bridging the digital gap, with 90% of people making their claims online. This is higher than the proportion of people claiming Jobseeker's Allowance online under the current benefits system.
More information
We published the Universal Credit pathfinder evaluation report on 29 November 2013.
Research company IFF surveyed 901 claimants in our 4 pathfinder areas over a 4 month period from July to October 2013. To allow comparisons with the current benefit system, 1800 new Jobseeker's Allowance claimants, who would be eligible for Universal Credit if they were living in the pathfinder areas, were surveyed over the same period.
Universal Credit was introduced in the first pathfinder area of Ashton-Under-Lyne on 29 April 2013, and was expanded to Wigan 10 weeks later and Oldham and Warrington on 29 July. Universal Credit was launched in Hammersmith at the end of October, and Rugby and Inverness in November.
Universal Credit replaces:
income-based Jobseeker's Allowance
income-related Employment and Support Allowance
Income Support
Working Tax Credit
Child Tax Credit
Housing Benefit
Jobcentre advisers and claimants agree a Claimant Commitment, based on their individual circumstances, which will clearly set out the jobseeker's responsibilities to find work. When a claimant starts work, Universal Credit will be steadily withdrawn as their income increases.
Contact Press Office
Media enquiries for this press release – 0203 267 5109
Press Office
Caxton House
Tothill Street
London
SW1H 9NA
London Press Office (national media and London area enquiries only – not questions about personal claims) 020 3267 5144
Out-of-hours (journalists only) 076 59 108 883
England and Wales (local media enquiries) 029 20 586 then 097 or 098 or 099
Scotland (local media enquiries) 0131 310 1122
Follow DWP on:
Published 29 November 2013