United Nations Security Council resolution on Libya No-Fly Zone has been approved
UK Explanation of Vote delivered by Sir Mark Lyall Grant, Ambassador and Permanent Representative of the UK Mission to the UN, on Security Council Resolution on Libya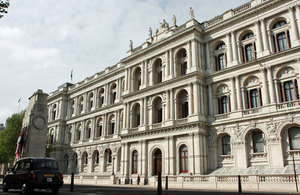 Thank you Mr President,
The situation in Libya is clear. A violent, discredited regime which has lost all legitimacy is using weapons of war against civilians.
Qadhafi's regime has ignored this Council's demand, in resolution 1970, that it stop the violence against the Libyan people.
It is now preparing for a violent assault on a city of one million people that has a history dating back 2,500 years. It has begun airstrikes in anticipation of what we expect to be a brutal attack using air, land and sea forces. Qadhafi has publicly promised no mercy and no pity.
We have also seen reports today of a grotesque offer of amnesty. This from a regime which has advertised its determination to continue persecuting and killing those Libyans who want only to take control of their own future.
The international community has come together in deploring the actions of the Qadhafi regime and demanding that the regime end this violence against the Libyan people.
International opinion has looked to the Security Council to act. The Arab League has been particularly clear in its demands, including for the imposition of a No-Fly Zone.
That is why the United Kingdom, in close cooperation with Lebanon and France has pressed for the early adoption of this resolution. My government welcomes the fact that the Council has acted swiftly and comprehensively in response to the appalling situation in Libya and to the appeal of the Arab League.
Mr President,
Resolution 1973:
Demands that Col Qadhafi implement an immediate ceasefire;
It imposes a No-Fly Zone to prevent the Qadhafi regime using air power against the Libyan people;
It authorises member states to take all necessary measures to protect civilians and civilian-populated areas under threat of attack. It rules out a foreign occupation force of any form on any part of Libyan territory;
It imposes a range of additional measures, including significant action to tighten enforcement of the arms embargo and to deny the regime access to funds.
We, along with partners in the Arab world and in NATO, are now ready to shoulder our responsibilities in implementing resolution 1973.
Mr President,
The central purpose of this resolution is clear: to end the violence, to protect civilians, and to allow the people of Libya to determine their own future, free from the tyranny of the Qadhafi regime.
The Libyan population want the same rights and freedoms that people across the Middle East and North Africa are demanding, and that are enshrined in the values of the United Nations Charter. Today's resolution puts the weight of the Security Council squarely behind the Libyan people in defence of those values.
Thank you
Search the news archive
Published 17 March 2011