United Kingdom support for Afghan security and justice
Foreign Office Minister, Alistair Burt, met a range of civil society on 26 April to discuss collective support to promote Afghan security and justice.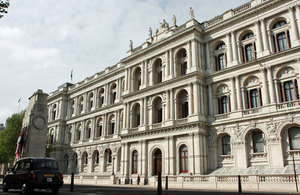 Those present at the event included academics, NGOs, think tanks and representatives from the British-Afghan Diaspora. The British Head of the Provincial Reconstruction Team in Lashkar Gah, Michael O'Neill, was also part of the discussions.
Following the meeting, Mr Burt said:
"The discussion we've had with NGOs and others this afternoon is to help them understand that we want to hear from them, and that they're able to let us know what's happening on the ground.
"When you think about it, there's nothing more important for people than when they're secure and safe and protected from external harm. That they have a system that - when something goes wrong, or if they want to take forward dispute - they can rely on the rule of law to protect them.
"We believe very firmly that the rule of law is absolutely crucial to the developing of the confidence of the people of Afghanistan in their Government. And that's why we're working with our international partners and with the Government of Afghanistan to build the quality and capacity of the rule of law right throughout the country."
Afghan people consistently highlight security and justice as one of their main priorities, but the Afghan police and legal system are often not able to meet public expectations.
Helping Afghans improve law and order in their country is fundamental to Afghan-owned security and stability. It will prevent al-Qaeda returning and stop Afghanistan's re-emergence as a base for terrorist activity. It is therefore a key priority for the UK.
There are now over 125,000 police officers in the Afghan police force.
A pioneering "Crimestoppers" helpline in Helmand Province has received more than 27,000 calls since it started over a year ago.
The number of justice officials in Helmand has increased from 38 to 51 since June 2010.
The UK is leading a new EU project to build leadership skills in the Afghan police force.
The Afghan Criminal Justice Task Force has secured over 1000 convictions for drugs offences since it was established in 2005.
The UK is building a new prison in Helmand to hold 1000 prison spaces, a female facility, health care, a kitchen, rehabilitation programmes and a fit for purpose juvenile facility.
Published 27 April 2011