Unique William Beckford coffer cabinet saved for the nation
Beckford Tower Trust successfully secures rare piece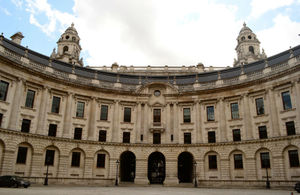 Beckford Tower Trust successfully secures rare piece thanks to funding from National Heritage Memorial Fund, the Art fund and personal donations.
The coffer cabinet and stand made for the famous and eccentric 19th century collector William Beckford (1760-1844) was saved thanks to £148,000 from National Heritage Memorial Fund (NHMF), £110,000 from the Art Fund along with numerous personal donations.
"This is a great example of why we have a system of deferring exports, and also a triumph for the kind of small scale philanthropy that we are working hard to encourage," said Culture Minister Ed Vaizey. "It is of course very fitting that this fine piece of furniture will be on display at the Beckford Tower and Museum and I offer them my warmest congratulations on securing its future in the UK."
Extraordinary life
Dating from the 1830s, this coffer and stand is the only known complete piece of furniture from a set of four originally created for the Scarlet Drawing Room at Beckford's Tower in Bath. Beckford, who inherited a vast fortune at the age of ten, used his immense wealth to build Fonthill Abbey in Wiltshire and create one of Europe's greatest collections of furniture books, objects and paintings. The coffer and stand was most probably designed by Beckford himself and the Bath architect Henry Edmund Goodridge (1797-1864) and was used as a display cabinet for items from Beckford's extensive collection.
Further information
Published 15 November 2011