Press release
UN Special Envoy announces further consultations towards a political settlement in Syria
In a briefing to the UN Security Council today the UN Special Envoy to Syria, Staffan de Mistura, announced his intention to establish Syrian led working groups and an international contact group as a means of finding a way back to political talks.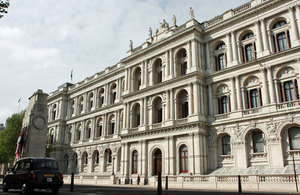 Minister of State for Foreign and Commonwealth Affairs, David Lidington, said:
We fully support Mr de Mistura's efforts. The task the Special Envoy faces is both complex and incredibly challenging. The UN Security Council and wider international community must support Mr de Mistura as he works with the Syrian parties to push forward efforts for a political process to bring about an inclusive transition, based on the Geneva Communiqué of June 2012. This is an approach we and the moderate opposition have long supported. The appalling conflict in Syria makes this an urgent task.
Further information
Follow Foreign Office Minister David Lidington on Twitter: @DLidington.
Follow the Foreign Office on Twitter.
Follow the Foreign Office on Facebook & Google+.
Published 29 July 2015