UN Security Council passes Resolution 2017 on counter proliferation in Libya
FCO Minister for the Middle East and North Africa Alistair Burt comments on the unanimous vote in favour of UNSC Resolution 2017 that addresses the risks from proliferation of weapons in Libya.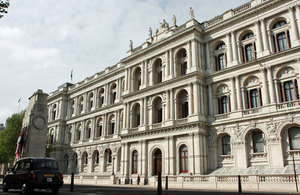 Alistair Burt, Minister for Middle East and North Africa, said:
"Today marks the end of NATO military action in Libya. UN Security Council Resolution 2016 highlighted how far the Libyan people have come in achieving a peaceful, democratic future for their country. Ending the No-Fly zone and the civilian protection provisions demonstrates that Libya has entered a new era.
"However, it is clear that there is more work to be done, not least in addressing the risk from the proliferation of weapons both within Libya and to Libya's neighbours. It is important that Libya and its neighbours take credible steps to prevent these weapons falling into the wrong hands. The international community also has a responsibility to assist.
"Today's Security Council Resolution 2017 aims to do just that. It highlights the need for the Libyan authorities take all necessary steps to secure and prevent the proliferation of all arms and related materiel of all types, in line with Libya's obligations under international law.
"The Resolution recognises that the Libyan people cannot do this alone and underlines the role of neighbours and the wider international community in supporting Libya. To this end, the Security Council has asked the Sanctions Committee established under UN Security Council Resolution 1970 along with its Panel of Experts, the Counter Terrorism Executive Directorate and relevant parts of the UN system to assess the threats and challenges and report to the Security Council with proposals to counter this threat, and to prevent the proliferation of arms and related material.
"The UK will play its part. We have already despatched a team of experts to Libya and they are working with the Libyan authorities to secure and disable including MANPADS (Man Portable Air Defense Systems) weapons systems. And we have offered technical advice to help with the destruction of remaining Libyan chemical weapons under the auspices of the relevant international authorities.
"We look forward to continuing to work with the Libyan authorities, regional partners, the Organisation for the Prohibition of Chemical Weapons (OPCW) and the UN system on this important issue".
Published 31 October 2011