UN Security Council expresses grave concern about Sudan & South Sudan
Speaking from New York, Foreign Office Minister Henry Bellingham, commented on the agreement by the Security Council of a Presidential Statement on Sudan and South Sudan.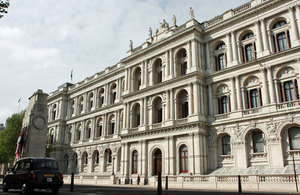 Minister for Africa, Henry Bellingham said:
"This statement demonstrates the Security Council's grave concern about reports of repeated incidents of cross-border violence between Sudan and South Sudan. I urge all parties to heed the Security Council's call to cease military operations in the border areas, and for the Governments of Sudan and South Sudan to refrain from any action that would undermine the security and stability of the other, including any direct or indirect support to armed groups in each other's territories.
"As the Foreign Secretary said last week, a return to conflict between Sudan and South Sudan would be a tragedy, putting at risk the progress made since the signing of the Comprehensive Peace Agreement in 2005. I welcome the Security Council's strong, united message to both Governments in this regard and urge them to use the forthcoming talks in Addis Ababa to resolve peacefully their outstanding differences."
Published 6 March 2012