Press release
UN report into abuse of children in Central African Republic
Baroness Anelay calls upon the UN to act upon the recommendations swiftly to ensure this kind of systemic failure never happens again.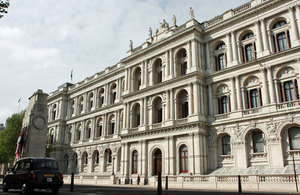 Speaking on publication of the report Baroness Anelay said:
I welcome Mme Deschamps' report into the UN's response to the allegations of sexual exploitation and abuse of children by foreign military forces in the Central African Republic.  The finding that those who are meant to protect the most vulnerable in society have instead abused them is shocking and completely unacceptable.  It is equally unacceptable that the UN failed to investigate fully and take appropriate actions on the outcome of that investigation. 
The UK has consistently supported the UN Secretary-General's zero tolerance approach to sexual exploitation and abuse.  It is clear that there remains much to do to make this a reality.  We remain determined to support the Secretary-General's efforts to protect the most vulnerable.  It is vital that the recommendations in the report are considered carefully and acted upon swiftly. This kind of systemic failure should never be allowed to happen again.
Further information
Follow Foreign Office Minister Baroness Anelay on twitter @JoyceAnelay
Follow the Foreign Office on Twitter.
Follow the Foreign Office on Facebook & Google+.
Published 17 December 2015