News story
UN Peacekeeping Defence Ministerial: Summary
On 8 September, the UK hosted Defence Ministers and representatives from 70 countries and 4 international organisations to discuss United Nations Peacekeeping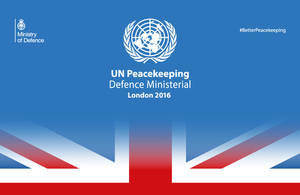 The event's communiqué, signed by over 60 countries, set out ambitious new targets for increasing the role of women in peacekeeping and making deployments faster. Participants also followed up the pledges at last year's US-hosted Leaders' Peacekeeping Summit with 30 new offers of personnel and equipment. A wide range of speakers addressed the key challenges of peacekeeping, including Defence Ministers, NGOs from the UK and the Democratic Republic of Congo, current and former peacekeepers, and the UNHCR Special Envoy and co-founder of the Preventing Sexual Violence Initiative, Angelina Jolie Pitt.
The event began with a reception attended by the Prime Minister, before a day in plenary was introduced by Secretary of State for Defence Michael Fallon and closed by Foreign Secretary Boris Johnson. UN Under-Secretaries-General Herve Ladsous (Department of Peacekeeping Operations) and Atul Khare (Department of Field Support) led the UN delegation, which also included Dr. Jane Holl Lute, the Secretary-General's Special Co-ordinator on Improving the UN Response to Sexual Exploitation and Abuse.
The plenary began with Ministers taking stock of the progress on pledges of military and police capabilities made at the Leaders' Summit They then discussed a range of ways to make peacekeeping better, including improvements to planning and performance, increasing the participation of women in peace and security, preventing and responding to instances of sexual exploitation and abuse by peacekeepers, and building a rapid-deployment capability for peacekeeping.
Ladsous and Khare reported that progress in delivering pledges made in 2015 had been faster than expected – a sign of the sincerity and determination of UN member states. The Secretary of State for Defence underlined the importance of turning pledges into people on the ground as quickly as possible. The 30 new offers included significant pledges of personnel and innovative partnerships, such as one on air transport capability between 5 nations in Mali. Ministers acknowledged that further efforts would be needed, however, to address growing needs in the areas of intelligence and surveillance, improved mobility (particularly helicopters), as well as medical and other specialist units.
UN Peacekeeping Ministerial - pledge slides (PDF, 746KB, 82 pages)
The meeting included a strong focus on the role of women in peacekeeping, which both the UN and member states recognised as critical to its future effectiveness. More women in peacekeeping enabled more effective engagement with communities, as well as improved cultures and behaviours across the force – important for preventing incidents of sexual exploitation and abuse, and for the prospects of successful conflict resolution. A number of countries spoke about how they were approaching the challenge, including through national action plans linked to the UN's Women, Peace and Security agenda, while Major General Kristin Lund briefed on the critical role that female peacekeepers played during her tenure as Force Commander of the UN Mission in Cyprus. Participants also agreed on the importance of getting women into 15% of staff officer and military observer roles by 2017.
Ministers also discussed misconduct by peacekeepers. They welcomed the Secretary-General's zero-tolerance policy on Sexual Exploitation and Abuse. Dr Holl Lute outlined what was being done within the UN system and in guidance to troop and police contributors. The meeting also heard how some troop contributors were implementing these measures in the field.
Ministers then considered how to improve UN peacekeeping in the context of complex 21st century conflicts. Challenges included enhancing intelligence capabilities and training both prior to and during missions. This was critical in light of the increasing focus in mission mandates on the protection of civilians. Lieutenant General Maqsood Ahmed, Military Adviser to the Secretary-General, highlighted the importance of effective leadership.
Lastly, the Meeting considered how to enhance the ability of the UN to respond to crises more rapidly, whilst ensuring that deployments were adequately prepared to do so. The UN set out how it was reducing bureaucratic processes and Ministers discussed plans to form to form a Vanguard Brigade.
The closing speeches recognised progress and the need for momentum to be maintained. In the final contribution, the Foreign Secretary reinforced the Defence Secretary's earlier emphasis on how a 3Ps approach to peacekeeping reform could help: better planning of missions, more pledges of personnel and equipment, and better performance by peacekeepers.
Published 21 September 2016
Last updated 29 September 2016
+ show all updates
Updated pledge slide deck.
First published.