UN Peacekeeping Defence Ministerial: London 2016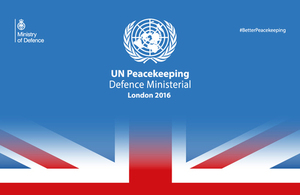 The Secretary of State for Defence Michael Fallon will host a UN Peacekeeping Defence Ministerial at Lancaster House in London on 8 September 2016.
This follows on from the Leaders' Summit on Peacekeeping in September 2015, and will reaffirm the UK's commitment to UN peacekeeping.
To access images of the event and UK UN Peacekeeping activity visit Defence Imagery
The Governments of Argentina, Armenia, Austria, Australia, Azerbaijan, Bangladesh, Belgium, Brazil, Cambodia, Canada, Chile, China, Colombia, Croatia, Czech...
Up to one hundred extra UK Armed Forces personnel are to join UN peacekeeping work in South Sudan, adding to 300 announced under the previous Government.
It is an honour to welcome you all here this morning. As we are gathered here…some 125,000 peacekeepers are deployed around the world…holding the line...
8 November 2016
Corporate report

29 September 2016
News story