Press release
UN labour organisation recognises Burmese progress on ending forced labour
Foreign Office Minister Hugo Swire today welcomed the International Labour Organization's lifting of restrictions on Burma.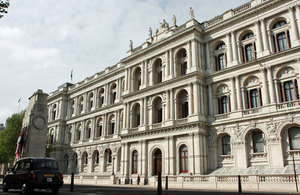 Foreign Office Minister Hugo Swire said:
I welcome this move by the International Labour Organization (ILO) to remove restrictions on Burma in recognition of the progress made there in recent years. Coming off the back of last week's announcement by the EU that Burma would be a preferred trade partner this is further evidence that the international community is positively encouraging Burma's efforts towards reform.

However, Burma still has a long way to go in ensuring full workers rights, and there are still existing forced labour practices which must be consigned to history where they belong. We, alongside Burma's other international partners, will work with the Burmese authorities and the ILO to achieve this.
Thirteen years ago, the ILO placed restrictions on Burma due to its widespread use of forced labour, particularly by the military. This included a moratorium on all engagement by ILO members on engagement with Burma on any issue except forced labour. Now restrictions are lifted, ILO members will be able to offer technical advice on employment and work related issues and policies. The UK supported today's move to lift the remaining restrictions given the significant legal and practical progress Burma has made towards ending forced labour and putting in place measures to allow trade unions and other workers' organisations to operate freely in the country.
Further information
Follow Foreign Office Minister Hugo Swire on twitter @HugoSwire
Follow the Foreign Office on twitter @foreignoffice
Follow the Foreign Office on facebook and Google+
Subscribe to the announcements feed or email alerts to get our latest news and announcements.
Published 18 June 2013