UN Human Rights Council meets to discuss human rights situation in Libya
The UN Human Rights Council had a debate today on the follow-up to the Special Session on Libya on 25 February.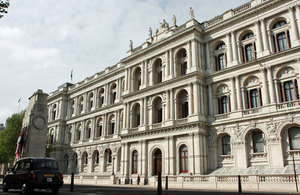 The Deputy High Commissioner for Human Rights gave an update on the human rights situation in Libya, citing serious concerns over reported human rights abuses.
The UK was one of 20 countries which made statements during the debate. All were unanimous in condemning the continuing violence in Libya.
Permanent Representative of the UK Mission to the UN in Geneva Peter Gooderham delivered the following statement:
"Mr President,
The United Kingdom fully supports the statement delivered on behalf of the EU, and would like to add the following remarks.
We continue to be appalled by the gross and systematic violations of human rights by Colonel Qadhafi and his supporters, and are particularly concerned by reports of summary executions, hostage-taking, arbitrary detention and torture. We strongly condemn the detention and ill-treatment of media representatives, and call on the regime to allow the independent and free media reporting which is essential in providing information about the situation on the ground, and in publicising human rights abuses.
We are increasingly concerned about the evolving humanitarian crisis. We urge Colonel Qadhafi and his supporters to ensure safe access for humanitarian organisations to provide much-needed food and medical supplies throughout Libya. We welcome the visit by the Special Envoy of the Secretary General who is currently in Tripoli.
The strong response given by this Council in its special session on Libya, and by the General Assembly and Security Council in New York, show the international community united in its outrage at the ongoing human rights abuses. We commend the swift action of the Chief Prosecutor of the International Criminal Court in announcing his investigation into alleged crimes in Libya, and welcome also the announcement of the experts who will head the Commission of Inquiry established by resolution of this Council. Both will be important in ensuring accountability for those who have perpetrated human rights abuses.
We welcome the outcome of yesterday's Arab League meeting, which shows Qadhafi's actions do not have support in the region. We call on Colonel Qadhafi to leave and for his regime to put an immediate end to the violence and meet the legitimate demands of their own people. We urge the Council to remain strongly engaged on this matter.
Thank you, Mr President."
Published 14 March 2011