UN Human Rights Council 41: Venezuela
The UK expressed deep concern in the deteriorating human rights situation in Venezuela and urged the regime to allow access to international humanitarian aid.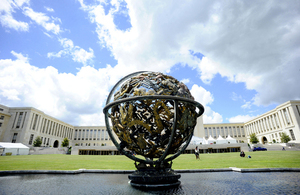 Thank you, Mr President, Madam High Commissioner,
The United Kingdom welcomes your visit, to Venezuela on 19th to 21st of June and thank you for your report.
We also welcome the announcement that the Office of the High Commissioner will now have a presence in Venezuela to provide technical assistance and monitor the human rights situation. We hope this leads to further cooperation between the Government and OHCHR.
However, we are deeply concerned by the deteriorating political, human rights and humanitarian situation in Venezuela.
The United Kingdom urges the Maduro regime to urgently address human rights violations and to guarantee victims access to justice. According to local NGOs, there are over 700 political prisoners in Venezuela and over 2,000 have been arbitrarily detained just this year. There are credible reports of: torture, inhuman and degrading treatment in detention facilities; extra-judicial killings; and detentions without trial. The death in October 2018 of opposition activist, Fernando Alban, whilst detained by the Intelligence Services, was deeply disturbing. The death of Captain Acosta while detained by Venezuelan military intelligence requires urgent investigation.
We support the Norwegian-facilitated talks and the International Contact Group's efforts to find a peaceful, political and democratic solution to the on-going crisis in Venezuela. We call on all parties to engage in good faith.
Finally, UNICEF estimates that approximately 3.2 million children are in urgent need of healthcare and nutritional assistance; we urge the Maduro regime to facilitate unimpeded access to, and the the entry of, international humanitarian aid.
Madam High Commissioner,
Can you expand further on the mandate of the Team of Human Rights Experts in Venezuela, and how you will ensure the full cooperation of the Maduro regime with the Office?
Thank you, Mr President.
Published 5 July 2019