World news story
UK/Uzbekistan Bilateral Relations
The British Ambassador hosted a reception marking Her Majesty's The Queen's Birthday, and hailed the strengthening UK-Uzbek relationship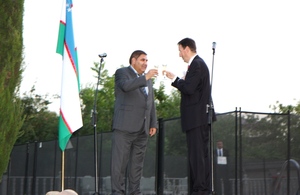 Around 600 guests – members of diplomatic corps and Uzbek public, including political, business and cultural elite – attended a reception marking Her Majesty the Queen's Birthday yesterday at the residence of the British Ambassador in Tashkent. Mr Elyor Ganiev, Minister of Foreign Economic Relations, Investment and Trade, Mr Vladimir Norov, Deputy Minister of Foreign Relations and Senator Safaev, Chairman of the Senate Foreign Relations Committee, were among senior guests in attendance. Her Majesty's Ambassador George Edgar welcomed the guests and thanked the sponsors for their generous support.
"My particular thanks to the Ministry of Foreign Affairs, with whom the Embassy work very closely. I think we've made progress in a lot of areas in our relationship; not least on the defence and security side, and in fostering a more active commercial relationship. We're working now to prepare the 20th annual session of the Uzbek-British Trade and Industry Council, which will take place in London in November, and we want it to be the biggest and most successful yet. We look forward to welcoming Minister Ganiev to London as Uzbekistan's co-chair of Uzbek-British Trade and Industry Council . There's more to do in the bilateral relationship – there's always more to do. As Robert Browning said "a man's reach should exceed his grasp". But our relationship is in a good state, as evidenced by the excellent visit yesterday and the day before by the Senior Minister of State from the Foreign and Commonwealth Office, Baroness Warsi", the ambassador said.
The guest were entertained by bagpipers and a drummer from the London Scottish Regiment, who will be staying in Uzbekistan for several days to play concerts in Khiva and Tashkent, along with young Uzbek musicians, who specially prepared a programme of traditional English music.
Published 14 June 2013
Last updated 14 June 2013
+ show all updates
Changed summary 'The British Ambassador hosted a reception marking Her Majesty's the Queen's Birthday, and hailed the strengthening UK-Uzbek relationship'
Changed the summary 'Ambassador to Uzbekistan hosted a reception marking the Queen's Birthday, and hailed the strengthening UK-Uzbek relationship'
First published.