Press release
UK's design for global expo in Astana unveiled
The winning design of the UK's Astana Pavilion, created by leading British designer Asif Khan, has been unveiled to an audience of design and business experts.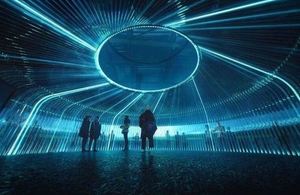 Forming the centrepiece of an ambitious UK business and cultural programme that shows a Global Britain open for business, the UK pavilion will be a multi-sensory experience involving film, technology, sound and computer generated animation.
With the Expo host's theme of 'Future Energy', the UK design explores the origins of energy and begins with the birth of the universe, taking visitors on the journey of energy from the sun through to landscape, climate and human civilisation, culminating in a 360º computer generated universal landscape with an illuminated structure at its centre, inspired by human ingenuity.
Completing a world class UK creative team is renowned musician Brian Eno, who is composing an original soundscape for the Pavilion, and Professor of Astrophysics Catherine Heymans, from the University of Edinburgh, who is developing the scientific context.
The UK's participation at the 3-month long global event, which is expected to attract over 2 million visitors, will highlight British expertise across the energy sector as well as in design and technology, and promote the UK as a business partner of choice and a hub of academic excellence.
International Trade Minister, Greg Hands, said:
The UK is renowned for its award-winning pavilions and this design is a great celebration of British creativity and architectural innovation. Our participation at the Astana Expo will showcase the UK's impressive capability across the various strands of future energy and is an opportunity for British expertise to shine on the global stage.
UK Pavilion Commissioner, Charles Hendry, said:
We look forward to showing the UK at its creative best in Astana and using the UK Pavilion to share our brilliant scientific and engineering expertise across the energy and mining industries.

Success in international markets is at the heart of the government's long-term plan to build a stronger, Global Britain.
UK Pavilion designer, Asif Khan, said:
The universe was formed 13.8 billion years ago. At that moment all energy and matter was in the same place at the same time. The idea that everything, including life on earth, is comprised of this archaic energy is fascinating to me. I wanted to find a way to express this relationship to our visitors and explore how energy is being continually harnessed and balanced around us.
The UK theme is 'We Are Energy' and the UK pavilion will introduce visitors to UK discoveries that have transformed the way people connect across the world, from the steam engine to the world wide web, culminating in the advanced material graphene which has the potential to radically change the way energy is produced and consumed.
The UK has established a reputation for world class design, engineering and technology having won awards for its pavilions at World Expos in Shanghai (2010) and Milan (2015). Astana Expo is a smaller Expo dedicated to finding solutions to specific problems.
Participation is a commitment to building a long-term relationship across all UK interests in Kazakhstan and the wider region. It is a key market for British oil, gas, mining, worth £40 billion annually to the UK economy – and in which the UK is widely regarded as a global technology leader.
Notes to editors
The design and engineering team comprises:
Designer: Asif Khan
Music: Brian Eno
Creative Agency: KBW Design
Design Management: WOO
Structural Engineer: AKT II
Services Engineer: Atelier Ten
Installation Interactive Engineering and Fabrication: iart
Digital Landscape Art Direction: Xavier Chassaing
Digital Landscape VFX: Martin Aufinger, Chris Bore
Science Advisor: Professor Catherine Heymans
UK Timeline Animations: Factory Fifteen
Build Contractor: Nussli
Astana Expo's 'Future Energy' runs from 10 June to 10 September.
The Expo is a global event that aims to educate the public, share innovation, promote progress and foster cooperation.
Over 100 countries and 14 international organisations and companies have confirmed participation, including the UK's main trading partners.
The UK's creative industries were worth £87.4 billion to the UK economy in 2015.
Further information
To request an interview with Asif Khan please contact DIT's UK at Astana Expo team on: 07471 025 923.
Follow us: @ukpavilion2017 #UKatAstana.
Published 31 March 2017