Press release
UK's concern at prison sentence for Bahraini opposition leader
Foreign Office Minister Tobias Ellwood expresses concern at the 4 year jail term handed to Sheikh Ali Salman, Secretary-General of Al Wefaq.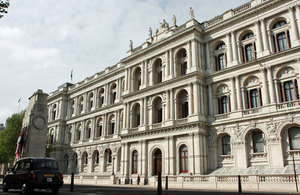 A Bahraini court has sentenced Sheikh Ali Salman, Secretary-General of Al Wefaq, to 4 years imprisonment for insulting the Ministry of Interior, inciting hatred against a group of people and incitement of disobeying Bahraini laws. He was acquitted of attempting to overthrow the government by force.
Commenting on the judgment, the Minister for the Middle East and North Africa, Mr Ellwood, said;
I am concerned by the verdict and the sentence handed down to Sheikh Ali Salman and I raised this case with the Bahraini authorities during my visit last weekend. I understand that Sheikh Ali Salman can still choose to appeal the court's decision.
The UK Government is supporting the Government of Bahrain in its reform programme, aimed at strengthening human rights and the rule of law, by providing technical assistance in judicial, policing and political reforms. Bahrain has made progress in its reforms, but we are clear more needs to be done, and the UK remains committed to supporting Bahrain in that process.
Further information
Published 16 June 2015