World news story
Ukraine 2014-2015 Chevening Scholarships applications open
Applications for Chevening Scholarships in Ukraine are now open and will close on 1 November 2013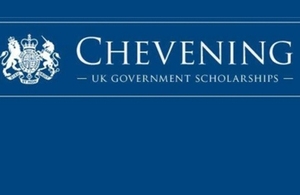 Chevening Scholarships are the UK government's global scholarships programme. Established in 1983, these scholarships support study at UK universities – mostly one-year Masters' degrees – for students with demonstrable potential to become future leaders, decision-makers and opinion formers.
The Scholarships not only offer financial support, but the opportunity to become part of an influential and highly regarded global network that unites over 42,000 alumni around the world.
Priority fields for 2014-2015
We accept applications from a wide range of subject areas, however, we particularly welcome applications in the following fields:
administrative, electoral, constitutional and judicial reform within the framework of closer integration with the EU
economic reform, improvement of the business climate
energy sector reform, including energy efficiency and environmental management
protection of media freedoms and minority rights
tackling regional and global security threats
What does it cover?
A Chevening Scholarship in Ukraine includes: a monthly stipend, travel to and from your country via an approved route, an arrival and excess baggage allowance, a thesis or dissertation grant, the cost of an entry clearance visa and tuition fees up to £12,000. If the tuition fees of your chosen course exceed this amount, please note that you may be required to supplement the balance of your award.
Chevening does not pay for costs associated with English language tests.
Eligibility criteria
There are no age restrictions for Chevening Scholarships. In order to qualify for a Scholarship, the applicant must:
be a citizen of Ukraine and intend to return to Ukraine after their studies
hold a degree that is equivalent to at least an upper second-class honours degree in the UK
demonstrate that you have achieved the Chevening minimum English language requirement
have completed at least two years' work or equivalent experience before applying
be able to obtain the correct visa, and receive an unconditional offer from a UK university
Application
If you would like to enhance your leadership skills and become part of the growing Chevening network, read about how to apply for a Chevening Scholarship in Ukraine.
Applications in Ukraine will close on 1 November 2013.
Published 20 September 2013