Press release
UKHO Alexander Dalrymple Award presented to Admiral Carrasco
Director of the Chilean Hydrographic and Oceanographic Service has been awarded for his contribution to world hydrography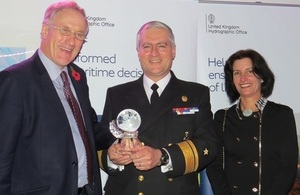 The UK Hydrographic Office (UKHO) has awarded the 2015 Alexander Dalrymple Award to Admiral Patricio Carrasco, Director of the Chilean Hydrographic and Oceanographic Service. The award recognises outstanding dedication and major contribution to world hydrography.
Patricio Carrasco is recognised as a strong proponent of hydrography in the South American region and has played a leading role in developing a modern Tsunami warning centre - a difficult task because of the extensive length of the Chilean coastline.
Presenting the award Reserves Minister Julian Brazier, responsible for the UKHO, said: "I would like to congratulate Admiral Patricio Carrasco on his award and his contribution to hydrography, which is vitally important for defence and world trade.
"The UK Hydrographic Office has been charting the world's oceans for more than 200 years, supporting the Royal Navy and merchant mariners and the work continues. Its products and services are now sold globally and used by over 90% of the world's ships trading internationally. Understanding our seas and coastlines is a constant process and Patricio has made an immense contribution to the protection and sustainable use of the marine environment in Chile."
The ceremony took place in London at a joint event between UKHO and IMarEST (the Institute of Maritime Engineering, Science & Technology) titled `Oceans of Knowledge: Realising the Benefits of Ocean Information'. The event explored the economic, safety and environmental benefits of improved observation and prediction of our oceans and seas.
Rear Admiral Tim Lowe, National Hydrographer and Deputy Chief Executive of the UKHO, delivered a keynote address in which he highlighted the growing importance of accurate survey data to support the emerging 'blue economy' and the UKHO's drive to develop a global marine geospatial data asset that spans the world's oceans.
"Humanity is turning increasingly towards the sea and oceans for resources, and the rapid growth of the 'blue economy' makes knowing the depth of the seas and oceans ever more important. In addition, the seas and oceans, including the seabed and sub-seabed, represent a vast resource for food, mineral resources, energy, water, bio-medicines and infrastructure. Over 90% of the world's trade travels by sea and the vast majority rely on ADMIRALTY products from the UKHO."
UK Hydrographic Office
Admiralty Way



Taunton
Somerset
TA1 2DN
Published 12 November 2015