World news story
UKaid-funded Kenya Climate Centre voted 'Most Promising Business Incubator 2014'
UKaid-funded Kenya Climate Innovation Centre (KCIC) has been voted the 'Most Promising Business Incubator 2014'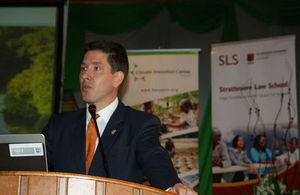 The UKaid-funded Kenya Climate Innovation Centre (KCIC) has been voted the 'Most Promising Business Incubator 2014' by the University Business Incubators (UBI) Index, a Sweden-based global body that identifies top incubators by evaluating their performance over time.
KCIC is aimed at supporting climate innovation in Kenya's private sector. It is coordinated by the World Bank's InfoDev through its Climate Technology Programme (CTP) and supports green growth through strengthened domestic capacity and financing for the transfer, development and deployment of innovative climate solutions. KCIC's award comes after the conclusion of the Geneva Climate Change Conference held from 8-13 February 2015, where climate change financing was a key point during the negotiations. As a party to the United Nations Framework Convention on Climate Change (UNFCC), KCIC has been at the forefront of implementing clauses that are likely to enhance how Kenya is responding to climate change. Over the last two years, KCIC has been working with the private sector in Kenya to facilitate climate technology innovation and linkage to markets. By providing business, technical and financial support to over 100 small and medium enterprises, KCIC has been able to mitigate over 59 million tonnes of carbon dioxide equivalent.
KCIC was launched in 2012 with joint funding by UKaid and the Danish International Development Agency (DANIDA), and was the first Climate Innovation Centre (CIC) to be set up in the world. UKaid has supported the establishment of KCIC with £4m (about Ksh 564m) through the Strengthening Adaptation and Resilience to Climate Change in Kenya (StARCK) programme, enabling it to initiate climate innovation, private sector investment and provide business support services.
Published 3 March 2015