UK will point the way to greener growth at Rio+20
The UK wants to see Rio+20 drive action on Sustainable Development Goals.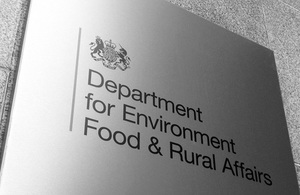 The UK will be a driving force in pressing for new goals to help the world embrace a greener and more sustainable economy at this summer's major UN conference in Brazil, Environment Secretary Caroline Spelman pledged today.
In a speech setting out the UK ambitions for Rio+20, in June, Mrs Spelman said the UK will work with Colombia and others to develop and drive forward the proposal for new Sustainable Development Goals (SDGs). SDGs are expected to guide and galvanise international and domestic efforts on major sustainability issues, such as food security, water, and access to sustainable energy.
In a move to give greater prominence to valuing nature, the UK will also be seeking agreement to move away from using GDP as the sole indicator of progress in government accounts. The proposal, known as GDP+, would encourage countries to also measure and account for the value of their natural resources and the social wellbeing of their people.
Speaking at the London Guildhall today to green groups and businesses, Mrs Spelman said:
"Our economic and environmental security relies on ambitious outcomes from Rio+20. Rio+20 has to be a workshop not a talking shop.
"The international community has not made sufficient progress on important world challenges such as food security, access to clean water and sustainable energy. We need urgent action now. Sustainable Development Goals can drive international action on these key issues and build on the success of the Millennium Development Goals. I will be pushing for real progress on new goals to set us on the right path to a greener and more sustainable world."
"We are committed to achieving growth, but this should not come at the cost of the natural resources we take for granted, or at the cost of wellbeing. We want to see countries acknowledging the true value of nature to our economy, by reflecting its worth in their accounts. The UK is a world leader in this field, and I will be making the case for all nations to match our progress."
The UK wants to see Rio+20 drive action on SDGs. They will not replace or detract from the current set of Millennium Development Goals (MDGs) to which the UK remains firmly committed. The UK will work with Colombia and other international partners to take forward SDGs ahead of Rio.
The UK will also be calling for Governments to reach an agreement on GDP+. The UK is already leading the way in this area through initiatives such as the Prime Minister's work to assess wellbeing, the Natural Capital Committee that has been set up to take stock of our natural resources, and the work of the Office of National Statistics to embed natural capital into UK environmental accounts by 2020. We will be sharing this expertise with other nations at Rio.
Other key ambitions for the UK at Rio+20 include:
Renewed political commitment to green growth through a high level, political declaration that all nations sign up to, making it clear that long term sustainable growth requires efficient use of natural resources, reduction of carbon emissions, and eradication of poverty.
Action in key sectors of agriculture, water and energy; setting out steps to tackle food security, water security and to provide access to sustainable energy.
Reducing inefficient and environmentally harmful subsidies, including fossil fuel subsidies.__
Improved sustainability practices by business, including through increased, more transparent sustainability reporting.
Defra will continue to work with businesses, NGOs and other civil society groups to ensure the UK demonstrates a strong and united commitment to creating a greener and more sustainable economy.
Mrs Spelman added:
"Ultimately, it is the private sector and civil society who will deliver the green economy. We need everyone to be inspired by Rio+20. UK businesses and civil society are already driving forward the green economy and Rio is a great opportunity to share their success."
Notes to Editors
The Rio+20 United Nations Conference on Sustainable Development will take place from June 20-22 in Rio de Janeiro, Brazil. The conference marks 20 years from the original Earth Summit held in Rio de Janeiro in 1992. More information about the conference can be found here http://www.uncsd2012.org/rio20/.
Further details on the UK's aims and ambitions for Rio+20 can be found on the Defra website: http://www.defra.gov.uk/environment/economy/eu-international/.
Published 9 February 2012