News story
UK welcomes resumption of coordinated military operations in DRC
UK Special Envoy for the African Great Lakes salutes the agreement between the Government of DRC and MONUSCO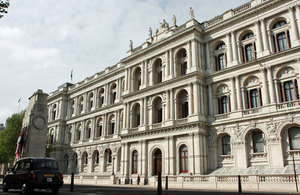 Danae Dholakia, the UK's Special Envoy for the African Great Lakes said after the announcement:
The UK welcomes the recent announcement by the Government of the Democratic Republic of Congo (DRC) and MONUSCO that coordinated military operations against armed groups will restart. I salute both the Government of the DRC and MONUSCO for reaching this agreement.

I look forward to the coordinated operations starting as soon as possible, particularly against the foreign armed groups FDLR and ADF, and reconfirm the UK's support for these operations.

I recognise the efforts and sacrifices that the FARDC has made in the fight against armed groups in DRC. I hope that joint operations will ensure that armed groups are eliminated in the DRC once and for all, in accordance with MONUSCO's mandate, allowing peace and prosperity to flourish.
Further information
Published 5 February 2016