Press release
UK welcomes release of civil society activists Leyla and Arif Yunus
Foreign Office welcomes the release of Azerbaijani activists and encourages Azerbaijan to take further steps to improve the human rights situation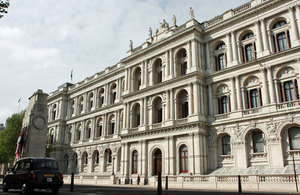 An Azerbaijani Court of Appeal has reduced the sentences of human rights defender Leyla Yunus and historian Arif Yunus to a 5 year suspended sentence. They were previously sentenced to 8.5 and 7 years imprisonment respectively on 13 August, following questionable allegations of tax evasion, illegal business activity, fraud and forgery. There has been concern over Leyla Yunus' health, which has deteriorated over the last year of pre-trial detention.
Commenting on the decision, Minister for Europe, David Lidington, said:
I welcome the decision to release Leyla and Arif Yunus. I hope Leyla Yunus will now be able to receive the essential medical treatment she needs. I encourage Azerbaijan to repeat this humanitarian gesture in other similar cases and to take further concrete steps to improve the human rights situation in the country. The UK will continue to urge Azerbaijan to abide by its international commitments and respect the rule of law.
Other prominent members of Azerbaijani civil society remain imprisoned. These include journalist Khadija Ismayilova, human rights lawyer Intigam Aliyev, democracy campaigner Rasul Jafarov and opposition leader Ilgar Mammadov.
Published 10 December 2015