Press release
UK welcomes new EU Syria sanctions listings
Foreign Secretary welcomes new Syria sanctions listings that apply further pressure on Assad's brutal regime.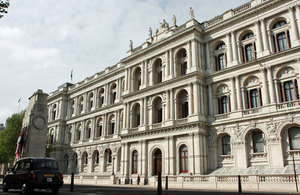 Philip Hammond said:
The UK has worked tirelessly with other member states to secure 13 new EU sanctions listings on Syria. We are targeting developers, proliferators and users of chemical weapons, along with businessmen and companies supporting the brutal shabiha militias. We have also agreed to target individuals supplying oil to the regime, including George Haswani, a middleman buying oil from ISIL on behalf of the regime. This listing gives yet another indication that Assad's "war" on ISIL is a sham and that he supports them financially.

These sanctions show that EU is united in its condemnation of Assad's brutal policies. We will continue applying pressure to the regime until it reassesses its position, ends the violence and engages in meaningful negotiations with the moderate opposition.
Further information
Follow the Foreign Secretary on Twitter: @PHammondMP.
Follow the Foreign Office on Twitter.
Follow the Foreign Office on Facebook & Google+.
Published 7 March 2015