News story
UK welcomes new counter terrorism centre in UAE
Foreign Office Minister Alistair Burt has welcomed the opening of a Centre of Excellence on Countering Violent Extremism in Abu Dhabi.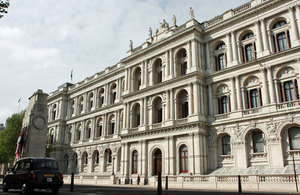 Harnessing the broad experience and expertise of the 30 Global Counter-Terrorism Forum (GCTF) founding member nations, the Centre will lead global research on the drivers of terrorism, deliver training to address these, and identify practical, operational initiatives to reduce the threat from terrorism. It was launched at the third ministerial meeting of the GCTF in the United Arab Emirates (UAE), which was attended by representatives from all member nations.
Speaking from Tunisia, where he is on an official visit, Foreign Office Minister Alistair Burt said:
"Today's launch in Abu Dhabi of the Centre of Excellence for Countering Violent Extremism (CVE) is an important milestone in the global fight against terrorism. In particular I welcome the leadership that His Excellency Foreign Minister Abdullah bin Zayed has shown and the Emirati commitment to host the Centre and make it a reality. The UK will continue to give it our full support. We have nominated an expert to serve as a Member of the International Steering Board and are seconding a Director of Training & Capacity-Building into the Centre's senior management team.
"We are determined to do our utmost to tackle the root causes of terrorism by ensuring a collaborative international approach to the common threat of terrorism. The Global Counter Terrorism Forum offers us an excellent platform from which to address this constantly changing challenge, drawing on the expertise and experience of its members".
Further Information
More information on the Global Counter-Terrorism Forum
Published 14 December 2012