UK welcomes EU trade package for Pakistan
Minister for South Asia Alistair Burt has welcomed the announcement that the World Trade Organisation will grant Pakistan a waiver for an EU trade package.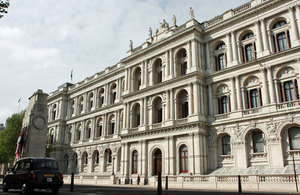 Speaking today he said:
"We welcome today's decision by the WTO to grant a waiver for an EU trade package for Pakistan. Once implemented, the package will provide substantial benefits to Pakistan's economy, generating jobs and growth in those areas affected by the terrible floods that hit Pakistan in 2010. The UK has been a tireless advocate for improved Pakistan trade access to the EU, and has worked closely with the Commission and international partners to press for today's decision. It is now important that the EU moves swiftly to bring these measures into force so that the European Council's 2010 commitment to Pakistan can be delivered. The UK will also continue to work with our European partners to achieve a deeper and more effective EU-Pakistan relationship."
The September 2010 European Council agreed to a package of measures to aid Pakistan's reconstruction after the disastrous floods of summer 2010.
A waiver request to grant one-off and time-limited trade preferences to Pakistan was subsequently submitted to the WTO.
On 1 February 2012 the WTO Council for Trade in Goods passed the waiver request, a decision approved by the WTO General Council on 14 February. To enact the tariff cuts the EU must now agree implementing legislation, requiring an agreement between Member States and the European Parliament.
Published 14 February 2012