Press release
UK welcomes enhanced trade preferences for Pakistan
Baroness Warsi delighted today's vote confirmed the entry into force of Generalised System of Preferences Plus for Pakistan.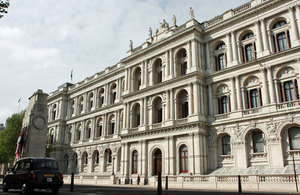 Today the EU Parliament voted to grant enhanced trade preferences for 10 developing countries, including Pakistan. Pakistan alone stands to gain an estimated $500 million and 1 million new jobs from this agreement.
Senior Foreign Office Minister Baroness Warsi said:
I am delighted that today's vote has confirmed the entry into force of GSP+ for Pakistan from 1 January 2014.

The UK has been a tireless advocate of improved EU market access for Pakistan. Following UK leadership to secure emergency trade preferences in the wake of the devastating 2010 floods, the UK has again spearheaded the campaign for GSP+.

These trade preferences will provide substantial benefits for Pakistan's economy, bringing sustainable growth and jobs. The vote is also a further sign of a deeper and more effective relationship that benefits both the UK and Pakistan.
Further information
GSP+ (Generalised System of Preferences Plus) is a key plank of the EU's trade and development policy. It grants vulnerable countries duty-free access to the EU market on two-thirds of tariff lines, if they implement 27 international conventions on human rights, labour standards, sustainable development and good governance. To avoid any risk of withdrawal it will be vital that GSP+ countries demonstrates continued progress against the conventions and satisfy the undertakings on monitoring and implementation made as part of the application to the scheme.
Find out more about the Generalised System of Preferences
Follow Foreign Office Minister Baroness Warsi on twitter @SayeedaWarsi
Follow the Foreign Office on twitter @foreignoffice
Follow the Foreign Office on facebook and Google+
Published 12 December 2013