Press release
UK welcomes crucial step forward in Colombia peace talks
Hugo Swire welcomes the commitment by the Colombian Government and the FARC to agree a peace deal by March 2016.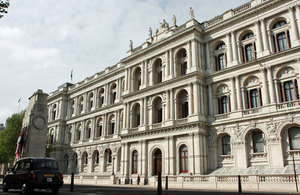 Minister for Americas, Hugo Swire, said:
I welcome the breakthrough between the Colombian Government and the FARC on arrangements for post-conflict justice, and their commitment to sign a full peace deal by March 2016. I congratulate the negotiators for their hard work. This is the one of the longest running conflicts in the world and we commend what are brave and difficult steps forward in the process.

We have long called for a peace agreement as the most effective way to protect the human rights of all Colombian citizens. Clearly, it is important as part of this that the abuses committed on all sides of the conflict are properly addressed.

We welcome the fact that this agreement takes account of both international law and the rights of victims, and that it clears the path towards eventual disarmament within a further two months. The selection of the independent members of the special tribunals will now be crucially important. We know, from our own experience in Northern Ireland, how challenging these matters can be.

We continue to support strongly President Santos' efforts to achieve peace for all Colombian citizens - after a conflict that has lasted five long decades, claimed over 220,000 lives and displaced over 5 million people. We stand ready to support Colombia however we can, and I look forward to discussing these welcome developments further with Colombian Foreign Minister María Holguín in New York in the coming days.
Further information
Published 25 September 2015