UK welcomes announcement of security transition in Afghanistan
Foreign Secretary William Hague and Defence Secretary Liam Fox today welcomed the announcement by President Karzai of the start of security transition in Afghanistan.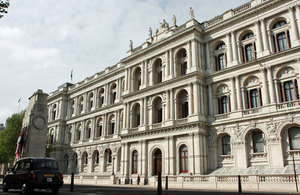 In a joint statement today, the Foreign Secretary and Defence Secretary said:
"We welcome President Karzai's announcement today that the first phase of security transition in Afghanistan has started. This begins the process of a gradual transition, which will be completed across the country by the end of 2014. This will ensure that UK forces will no longer be in a combat role in Afghanistan by 2015.
The decision to begin the first phase of this transition process was informed by an assessment of the security, governance and development situation on the ground. Transition is a process, which will over time achieve our shared goal of the Afghans leading on security. We will not abandon Afghanistan.
We welcome the assessment that Lashkar Gah district in Helmand is ready to begin this first phase. This is a measure of Afghan military and governance capability in this area. It demonstrates that efforts to support the Afghan National Security Forces through continued training, partnering and mentoring are working.
We warmly welcome President Karzai's commitment to peace and reconciliation. We also support the President's efforts to reach out to insurgents and echo his call to neighbouring countries, including Pakistan, to support a peace process.
The UK and our ISAF partners remain committed to respecting Afghan sovereignty and working together to ensure Afghanistan never again becomes an operating base for international terrorism. Our Afghanistan strategy is not just about Afghan security capability - military action must be matched by a viable Afghan state and a political process, backed by development. The UK remains committed to a strong, long term partnership with Afghanistan based on diplomacy, trade and development."
Published 22 March 2011