World news story
UK Visas & Immigration launches a 24-hour Super Priority Visa service in South Africa
On 16 March 2015 UK Visas & Immigration will launch a new 24-hour Super Priority Visa service in South Africa.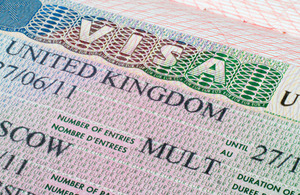 The introduction of this service will allow customers greater flexibility to choose from a number of visa products to meet their needs; it is offered alongside our current Priority Visa (5 day) and standard (15 day) services.
The UK is the only European country to offer a visa decision in 24 hours. The Super Priority Visa service is aimed largely at key business customers and those needing to travel urgently by providing a visa decision within 24 hours of application.
The service costs £600 in addition to the visa fee and will be available to eligible customers applying in the Johannesburg and Pretoria visa application centres.
Customers applying in any one of the following immigration routes are eligible to use this service:
Visitors (all short stay categories, including Business Visitor)
Points Based System Tier 2 (applicants must be legally resident in South Africa)
Points Based System Tier 5 (Temporary worker – Creative and Sporting) (Creative and Sporting routes only. Applicants must either be legally resident in South Africa, or in South Africa at the time of application for a similar purpose to that proposed to be undertaken in the UK)
Appointments are available Monday to Thursday from 8.30 am to 9.20 am at the Johannesburg and Pretoria Visa Applications Centres only.
Extending the Super Priority Visa service to South Africa is another example of how the UK is leading the world in the provision of premium visa services for those coming to the UK to visit or work.
Welcoming the introduction of the Super Priority Visa service in South Africa, the High Commissioner said:
We are pleased to see the Super Priority Visa service being launched in South Africa. This comes with an additional cost but is designed to give greater flexibility to our customers and underlines our strong commitment to make improvements to the visa services we offer. We expect this new service to be particularly useful for business. Opportunities arise at short notice, we recognise this and want entrepreneurs and the business community to be able to seize these.
For further information please see below.
Published 13 March 2015