News story
UK urges Lao authorities to investigate disappearance of community leader
Foreign Office Minister Hugo Swire has expressed concern about the disappearance of community leader Sombath Somphone in Vientiane, Laos.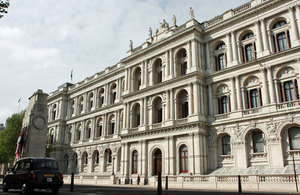 Sombath Somphone founded the Participatory Development Training Center (PADETC) a non-profit private school in Vientiane and was awarded the Ramon Magsaysay award for his work promoting sustainable development in Laos. Sombath also worked with the UK to organise the Asia-Europe People's Forum in October 2012.
Commenting on his recent disappearance Hugo Swire said:
I am extremely concerned by the disappearance of the respected NGO worker Sombath Somphone in Vientiane, who went missing on 15 December 2012. Sombath has played a crucial role, over many years, in helping some of the poorest communities in Laos develop a stable means of income. He has proved a crucial partner in preparing and delivering with the UK a forum for young people in Laos last year. The UK Government strongly urges the Lao authorities to ensure a prompt, thorough and impartial investigation into Sombath's disappearance, and to do all they can to ensure that Sombath is reunited with his family as matter of urgency.
Further Information
Read more about the Ramon Magsaysay Award Foundation
More information on the Participatory Development Training Center
The Asia-Europe People's Forum
Published 11 January 2013