UK unites to stamp out battery cages
The AHVLA will use ultra violet light to identify batches of eggs that were not laid in the new, more welfare friendly cages.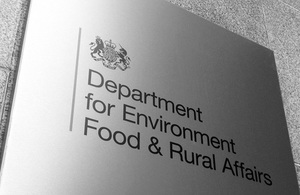 Tough action will be taken to improve welfare standards and living conditions for hens and prevent eggs produced in 'battery cages' being sold in the UK, Agriculture Minister Jim Paice announced today.
An EU ban on battery cages comes in to effect on 1 January 2012, from when egg producers are required to provide hens with larger and more comfortable cages, which include nesting and scratching areas that allow more natural behaviour.
The UK has long been calling for a tough EU enforcement regime to ensure welfare standards are driven up and prevent producers who have not dispensed with battery cages from profiting.
To overcome the fact that no European agreement was reached on enforcement, the British government has instead been working closely with the domestic egg industry, processors, food manufacturers, the food service sector and retailers to reach a voluntary consensus that they won't sell or use battery-farmed eggs which will help British consumers to avoid unwittingly buying them.
Agriculture Minister Jim Paice explained:
"It is unacceptable that after the ban on battery cages comes into effect, around 50 million hens across Europe will still remain in poor conditions.
"We have all had plenty of time to make these changes, but 13 EU nations have not done so. The UK egg industry alone has spent £400million ensuring hens live in better conditions. It would be unthinkable if countries continuing to house hens in poor conditions were to profit from flouting the law.
"British shoppers should be reassured that as long as they buy food containing eggs from those companies who have guaranteed not to use or sell eggs from battery cages, they will be supporting higher welfare standards and British egg producers."
The Animal Health and Veterinary Laboratories Agency (AHVLA) will use ultra violet light to identify batches of eggs that were not laid in the new, more welfare friendly cages. UV light picks up small marks left in the shell immediately after it has been laid, before it hardens. Any eggs which only show a pattern of wire marks will have been laid in the old battery cages, and will not be allowed to be sold as class A (whole) eggs.
With many retailers and major food suppliers putting in place stringent traceability tests to guarantee they will not supply eggs produced from illegal conventional cages or use them as ingredients in their own brand products, it will be difficult for producers who have not complied with the EU directive to find an outlet in the UK.
Jim Paice added:
"We're taking action to protect UK consumers and the egg industry by hitting producers who flout the law where it hurts - in their pockets.
"I want to congratulate the many major supermarkets and food businesses who have joined with us to stand up for animal welfare by saying they won't sell or use eggs produced in battery cages, making it far less likely that the British public will be buying them."
Notes
Council Directive 1999/74/EC was introduced in 1999 and provided for egg producers in EU Member States to switch to higher welfare "enriched" cages by 1 January 2012.
13 Member States are unlikely to be compliant with directive by 1 January 2012, meaning an estimated 50 million hens will still be housed in battery cages by the time the ban comes into force.
The UK is largely self sufficient in eggs with 82% of eggs consumed being produced in this country. Of the 18% of egg and egg products being imported, approximately half will be imported as shell egg and half as egg product (liquid or powder).
The UK is the 6th largest egg producer in the EU. In 2010, the UK was home to 33 million laying hens. UK table egg industry worth £561m (2010). UK production 826 million dozen table eggs annually from the following farming methods: 50% cages (conventional or enriched); 42% free range; 8.3% (barn & organic) (2010); Industry estimate the UK market split for 2012 to be 43% enriched cage, 50% free range (of which 3% would be organic) and 4% barn;
An enriched cage provides 50% more floor space, with each bird permitted a minimum living space of 750cm² and more height than conventional cages.  They are often called 'colony' systems, as each cage can house from less than 10 up to 80 hens.  They are required by law to provide nest areas, a littered scratching area, perch space and claw shortening devices.
Once suspected non-compliant shell eggs are indentified, the Animal Health and  Veterinary Laboratories Agency will contact the Competent Authority in the originating Member State and ask for confirmation of the system of production.  If they are found to be from an illegal system, they will be prevented from being marketed as Class A eggs and would be sent for processing (i.e. be treated as Class B eggs)  - if indeed any UK processors would accept them.  If the eggs were found to be from compliant system, the eggs would be released.
Retailers, food manufacturers and food service companies and processors have come out publically in support of UK egg producers. The British Retail Consortium has guaranteed that conventional caged eggs will not be bought by the major retailers or used as ingredients in their own-brand products.  They have put in place stringent traceability tests to ensure that they will not be buying conventional caged  eggs.Retailers that have made this guarantee are Marks and Spencer, Morrisons, Asda, J Sainsbury, Co-operative Group, Tesco, Waitrose, Iceland Foods, Greggs, Starbucks and McDonald's. Many food manufacturers and food service companies have also given a similar guarantee for eggs or egg products. They include: Premier Foods plc, Marlow Foods Ltd, United Biscuits, Ferrero UK, Apetito, Allied Mills, Allied Bakeries, Burton's Biscuit Company, Speedibake, Dairy Crest, The Silver Spoon Company, Westmill Foods, Compass, Baxter Storey, and Sodexo. The following egg processors have also signed up to not sourcing conventional caged eggs from 1 January 2012: Manton's, Noble Foods, Framptons, Fridays, Oaklands Farm Eggs, Lowrie Foods, and the UK Egg Centre. Defra is in discussion with others and hopes to be able to add further names to this list.
Published 6 December 2011