Foreign Office Spokesperson responds to publication of FAC report on UK-Turkey relations and Turkey's regional role.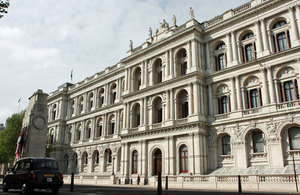 Foreign Office Spokesperson siad;
"The House of Commons Foreign Affairs Select Committee (FAC) has published its report on UK-Turkey relations and Turkey's regional role today. The report reflects the views of the Committee in line with its remit to examine the Government's foreign policy. The Government will present its official response in June.
"The Foreign and Commonwealth Office welcomes the recognition given in the report of Turkey's growing political and economic role on the world stage, and its analysis of ways to strengthen the UK-Turkey relationship.
"We also welcome the Committee's endorsement of the Government's steadfast support for Turkey's EU accession, as an important element of the bilateral relationship. We believe that Turkish accession would be to the wider benefit of the UK and EU, contributing to our prosperity, security and stability. Turkey has made clear its firm strategic commitment to accession to the EU, and successive European Councils have made clear that Turkey is a candidate for full membership of the EU.
"The UK is working closely with the Turkish Government, both bilaterally and with the EU to prepare Turkey for accession to the EU. In 2011/12, we have offered technical assistance on a range of issues, including freedom of expression, women's rights, and judicial and public administration reform.
"We welcome the Committee's recognition of the strength of UK-Turkey ties. We work closely with Turkey on foreign policy issues critical to UK interests including Syria, the Iran nuclear issue, Somalia, Afghanistan and the Western Balkans. The Prime Minister has committed to doubling bilateral trade with Turkey over the next five years. Total trade reached £9.1 billion in 2011 - an increase of 40% since 2009. The government is committed to building on this success by raising awareness of market opportunities in Turkey amongst UK exporters, and tackling outstanding market access issues.
"The Committee has highlighted a number of concerns on human rights, particularly freedom of expression. We share the concerns expressed by the European Commission about Turkey's human rights record, and we encourage the Turkish Government to take further steps to encourage greater freedom of expression particularly in the media. We welcome recent steps taken by the Turkish Government to reform its judicial system and look forward to further progress.
"The Committee also raised the Cyprus settlement negotiations, where we are committed to supporting the UN's efforts to achieve a settlement based on a bizonal, bicommunal federation with political equality. "
Published 4 April 2012