UK-trained female soldiers to take the fight to Daesh
British soldiers based have trained female Peshmerga fighters in infantry, medical and counter-Improvised Explosive Device (IED) skills.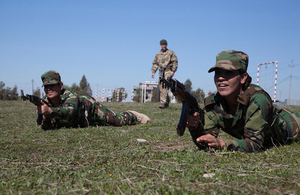 British soldiers based in Northern Iraq have trained female Peshmerga fighters in crucial infantry, medical and counter-Improvised Explosive Device (IED) skills. In a first for the 66 nation global counter-Daesh coalition, troops from 1st Battalion The Rifles and their Dutch partners delivered an intensive three week training course for 120 female troops.
The women are part of an infantry battalion who fight alongside their male colleagues on the front line and provide protection to medics, wounded fighters and vulnerable civilians, including women. They have a unique psychological advantage over Daesh as the terrorists believe that if they are killed by a woman they will not go to heaven. They are due to play a key role in the operation to retake Mosul, dealing with civilians who may have been victims of Daesh sexual violence. To prepare them for this role they have also been trained in the Law of Armed Conflict and Protection of Civilians.
Over 24,000 Iraqis have been trained under the programme to strengthen the Iraqi Security Forces and increase their military capacity against Daesh, and nearly 3,000 troops are currently under training. The training, along with coalition air strikes, has helped Iraqi forces retake 40% of the Iraqi territory initially seized by Daesh in summer 2014.
Defence Secretary Michael Fallon said:
The Iraqis are rightly leading the fight for the security of their own country. These brave female Peshmerga fighters will help ensure that Daesh are kicked out of Iraq for good and we must keep supporting them.
The British troops are using hard won experience and skills from Afghanistan to help the Peshmerga take the fight to Daesh. Lieutenant Colonel Oz Lane, who is in charge of UK training said:
The female Peshmerga have been a pleasure to teach. They are keen to learn and highly motivated and we are providing them with the skill sets not only to fight Daesh but to manage the humanitarian situation after they have won the fight.
Published 26 March 2016