UK Trade and Investment: Britain aims to double it's trade with Turkey
Prime Minister David Cameron hailed a new partnership with Turkey when he visited yesterday.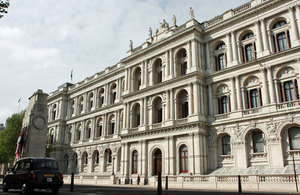 With bilateral trade currently worth $US 9 billion, Prime Minister David Cameron said he wants Britain to double its trade with Turkey, one of Europe's fastest growing economies, in the next five years.
Speaking in Ankara yesterday, the Prime Minister hailed a new partnership with Turkey, with increased trade and investment at the heart of the new alliance.
UK Trade & Investment Chief Executive Sir Andrew Cahn said British business across the country will be the key to boosting trade and achieving these new targets.
Sir Andrew Cahn said:
"Turkey is an economic powerhouse with enormous potential for UK companies. With current growth levels of 11 per cent, it is tipped to be Europe's second largest economy by 2050.
Situated at the crossroads between east and west, doing business in Turkey can provide a foothold for companies looking to do business in the Middle East, European and Central Asian markets.
Whether you're an experienced exporter or thinking about exporting for the first time, UK Trade & Investment is here to help any British company interesting in doing business in Turkey and beyond."
The Prime Minister's announcement to double UK trade with Turkey over the next five years is part of the Coalition Government's plans to inject a new level of commercialism to British foreign policy.
Why Turkey?
Turkey is tipped to be the second biggest economy in Europe (after the UK) by 2050.
OECD estimates that Turkey will be the fastest-growing economy after China and India by 2017.
Turkey is one of the world's largest markets with a population of 73 million, of which 60 per cent is under the age of 35.
UK / Turkey trade is worth $US 9 billion. The UK aims to increase this to $US 18 billion by 2015.
The UK is the second largest investor in Turkey.
In 2009/10 the UK attracted 13 new investment projects from Turkey which generated 163 jobs.
A key Turkish investor is Beko which makes one in 10 of the UK's refrigerators.
Opportunities for UK business in Turkey cover a range of sectors including education, energy, construction, design and low carbon.
Turkey is the number one TV manufacturer in Europe. It makes a third of all flat-screen TVs and is the largest DVD player producer in Europe.
Turkey is the world's 6th largest clothing manufacturer and the 2nd largest supplier to the EU (after China). Turkish companies manufacture garments for many world renowned brands including Gap, Marks & Spencer, Burberry, Next and H&M.
Turkey's construction/contracting sector is the second largest in the world, after China.
One in four of the largest companies in the Middle East and North Africa are Turkish.
65 per cent of industrial exports from the Middle East and North Africa originate from Turkey.
More than 2,000 UK companies are already doing business in Turkey, including household names such as Vodafone, Tesco and Marks & Spencer, Rolls Royce, AstraZeneca and GlaxoSmith Kline.
Turkey's tourism sector is one of the biggest in the world. It is the 7th most visited country in the world.
Published 28 July 2010