UK to support new security initiatives in Central America
Foreign Office Minister Jeremy Browne has announced £180,000 of new government funding to support vital security projects across Central America.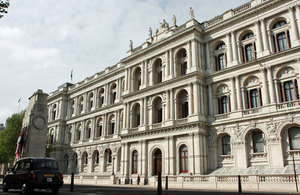 This is in line with the UK's commitment to do more to tackle issues affecting the SICA (Central American Integration System) countries, as part of a renewed engagement programme across the region, and was announced as the Minister spoke at a meeting of Central America Ministers in London.
The announcement follows the UK's decision in September to join the Friends of SICA group, which will provide for more assistance in responsibly tackling poor security and improving human rights in Central America. A new British Embassy in San Salvador will also open next year, with a focus on security.
Among the new projects being funded are:
A police training course for senior police officers from each of the SICA countries at the Bramshill International Police Academy in Hampshire.
Targeted training for law enforcement agencies in Belize to strengthen their police, security and criminal justice systems.
Further support to CICIG (the UN-backed anti-impunity commission for Guatemala)
Technical equipment for the police forces of Costa Rica and Honduras, which will assist their work in counternarcotics and forensic data analysis.
This is in addition to existing projects in which the UK is a key partner, from community policing initiatives in El Salvador, intelligence training in Belize and equipment, to assisting Costa Rica's police in counter-narcotics operations.
Speaking at a conference for SICA in London today, Jeremy Browne said:
"Violence and organised crime are major concerns in Central America, and I am pleased we are able to share our expertise with our partners in the region.
"These issues have a wide impact, felt in Latin America and Europe, including the UK. It is in all of our interests to tackle the problems at their root.
"The additional funding announced today reflects the importance we attach to our relationship with Central America, and how vital we believe it is to deal with crime in an effective yet non-violent way."
Published 10 November 2011