UK to provide emergency evacuations and medical aid for Libya
Britain is to help 5,000 people trapped in Misurata escape the besieged city and will provide vital medical assistance to those who remain in towns across western Libya.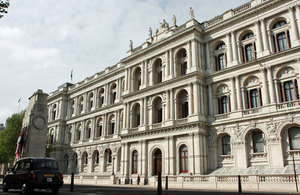 International Development Secretary Andrew Mitchell made the announcement from the UN in New York today.
The emergency evacuations will be carried out by the International Organisation for Migration (IOM) and will get foreign workers who have managed to reach Misurata's port safely out of the town. Britain will also fund International Medical Corps (IMC) to provide critical medical aid for those caught up in the violence across western Libya. The IMC will:
send in five-person volunteer surgical and trauma teams to medical facilities;
provide medical supplies including antibiotics and analgesics, bandages and first aid kits and surgical equipment, to treat the wounded and for other general medical care needs, as well as food supplies for hospital patients;
provide emergency evacuations for the most severely sick and injured to Benghazi and other facilities outside of Libya if necessary.
The Development Secretary is in New York today to meet with leading figures in the United Nations, including UNICEF, UNDP, the Office for the Co-ordination of Humanitarian Affairs and other senior diplomats, to consider what more can be done to relieve the suffering of people living in flashpoints across Libya. He will use his visit to discuss plans for better access for aid, medical supplies and other humanitarian assistance, and to consider how to speed up crucial transit times.
Published 18 April 2011