UK to lead global partnerships to tackle corruption
At least 18 countries commit to international partnerships to drive up standards and integrity in government institutions and professional associations, as part of landmark Anti-Corruption Summit.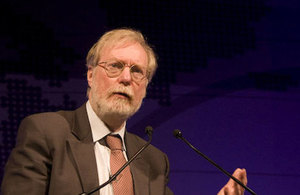 The UK is to lead a new international network of partnerships between countries and institutions to stamp out corrupt practices and strengthen the integrity of government institutions globally.
Drawing on expert development economist Professor Sir Paul Collier's "twinning" approach, the new 'Institutional Integrity Network' will see countries partnering up to share high professional standards and best practice in vital areas of government and in professional associations; including tax, budgets, natural resource management and accountancy.
This is a key strand of the Prime Minister's international Anti-Corruption Summit, which aims to step up global action to expose, punish and drive out corruption. It will boost development opportunities and improve the delivery of life-saving services in many of the poorest countries.
As part of the international network of partnerships, Britain is leading the way by sharing its own expertise through introducing a new 'GREAT for Partnership' initiative - part of the GREAT Britain campaign designed to project the best of the UK overseas.
International Development Secretary Justine Greening said:
Corruption is a menace that undermines all our efforts to end poverty and promote global prosperity – we must work together to win this fight by ensuring every country builds robust institutions and tax systems so they can stand on their own two feet.

Our new UK-led partnership network will stamp out corrupt practices in international governments - which are a grave threat to the national interests of every country, including the UK.
GREAT for Partnership will see key UK bodies, such as the Office for Budget Responsibility, National Audit Office and National Crime Agency, partner with countries including Nigeria, Kenya, and Tanzania to embed integrity in their institutions and build a shared culture of honesty and probity.
As well as prioritising anti-corruption, GREAT for Partnership will also establish partnerships with countries on health, extractives and a range of other sectors, including the rule of law, climate, infrastructure, education and digital.
New UK partnerships announced at the Summit today include:
The UK National Audit Office and Nigeria's Office of the Auditor General working together to strengthen organisational governance and compliance with international audit standards.
The National Crime Agency partnering with relevant counterpart agencies in Tanzania, Kenya and Nigeria to strengthen their anti-corruption institutions.
The UK committing to an institutional integrity partnership with Kenya to support the development of its financial regulatory bodies through provision of UK expertise.
The Office of Budget Responsibility partnering with Georgia's Parliamentary Budget Office to strengthen budget transparency, including through improving the quality of economic and fiscal reporting.
The UK stands ready to provide financial and technical assistance to the newly announced Afghanistan Anti-Corruption Justice Centre, including through work with UK institutions.
As set out in the recent aid strategy, the UK is doing more than ever to tackle organised crime and corruption and already supports a large number of existing partnerships.
For example, the Royal Institute of Chartered Surveyors and the Better Regulation Delivery Office helped the Bangladeshi government tackle weak building regulations following the Rana Plaza disaster. The Crown Prosecution Service has helped the Jamaican Major Organised Crime and Anti-Corruption Agency to develop the tools and skills to investigate and prosecute corruption and other serious crime.
International partnerships commitments made at the Summit today also include:
Bulgaria and Afghanistan partnering to strengthen policing and anti-corruption units.
Norway strengthening the integrity outcomes in its partnership with Ghana and Tanzania under its landmark Oil for Development programme.
Through the International Bar Association's Programme for Excellence, the Georgian Bar Association and the Law Society of Kenya partnering with participating associations from other countries to enhance effectiveness in global legal services, the justice system and the rule of law.
The Commonwealth Secretariat will establish new Anti-Corruption Networks, first in the Pacific and then Asia to promote practitioner partnerships.
Australia's integrity-focused partnership in the Pacific.
Notes to editors
The Network will be supported by a new Learning Exchange, hosted by the OECD, and funded by the UK government, linking to the expertise and experience of others, networks, professional associations and international organisations.
The countries who have committed to Institutional Integrity Partnerships include Romania, Mexico, Georgia, Switzerland, Afghanistan, Australia, Norway, UK, Nigeria, Kenya, Tanzania, Bulgaria, Netherlands, Ghana, Korea, Ukraine, Germany, USA – as well as the UN and Commonwealth.
The UK has partnered across 27 countries to improve healthcare for some of the world's poorest people, by twinning NHS and other UK health institutions with their counterparts in developing countries. The National School of Government International has helped over 15 countries with over 200 health cases since 2011, focused principally on centre of government improvement and support.
General media queries (24 hours)
If you have an urgent media query, please email the DFID Media Team on mediateam@dfid.gov.uk in the first instance and we will respond as soon as possible.
Published 12 May 2016