News story
UK to help World Food Programme reach an extra 230,000 Syrian children
An additional £87 million from the UK's Syria aid response has been allocated to the WFP, reaching 230,000 Syrian children and their families over the next 6 months.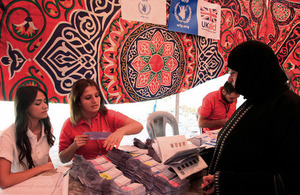 The UK is allocating £87 million from its humanitarian support package for Syria to the World Food Programme, to help them reach a further 230,000 Syrian children and their families over the next 6 months.
International Development Secretary, Justine Greening, made the announcement as the UN Security Council unanimously agreed a new statement calling for unfettered humanitarian access to the war torn country.
The humanitarian crisis in and around Syria has reached catastrophic proportions. There are now 6.8 million people in need within Syria. Of these at least 4.25 million have been forced to flee their homes to other areas of the country and a further 2.1 million have fled to neighbouring countries in the region. Half of the refugees from Syria are under 18 years of age.
Responding to the UN statement, Justine Greening said:
It is very welcome news that the UN security council has agreed on the need for unhindered access to all those needing humanitarian support in Syria. It is vital that aid can get through as quickly as possible to those who need it most.
The crisis in Syria has left millions of people needing urgent food supplies and medical attention.
Britain is determined to help the Syrian people through this crisis and our help will bring essentials such as food, water and medicine to reach Syrian people in need.
This is our largest ever humanitarian response to a single crisis, which reflects the scale, despair and brutality of what's going on.
The UK allocation to WFP will:
reach over 230,000 Syrian children in the region every month for 6 months, of which half are refugees

provide fortified nutritional foods for 8,400 children in Syria every month, to meet potential gaps in their diets. These children have been forced from their homes and are living in public shelters

provide food vouchers and other support for hundreds of thousands of Syrian refugees across Syria's neighbouring countries, around half of them children.
In total WFP will reach over 460,000 people per month with food vouchers, take-home rations and hot meals. UK funding to WFP in Syria and the region now totals over £150m.
Facts and stats
The World Food Programme estimates that it costs £11 to feed a Syrian family for a week

It costs WFP US$30 million (£18 million) every week to meet the food needs of people affected by the Syrian conflict

WFP aims to feed four million people inside Syria every month

Recent assessments by WFP and FAO found that some four million people are unable to produce or buy enough food in Syria to meet their monthly food needs.
Related government links
General media queries
Follow the DFID Media office on Twitter - @DFID_Press
Published 3 October 2013