Press release
UK to help girls and women access clean energy
The UK is contributing to a global initiative to give universal access to electricity and safe cooking solutions in developing countries.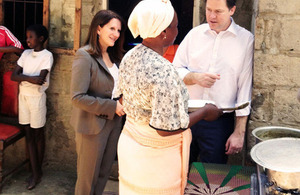 The Department for International Development is to help fund new research that will provide girls and women with clean sources of energy. Around 1.3 billion people globally lack access to electricity and 2.6 billion rely on firewood for cooking and heating. Every year at least 2 million people die from burning solid fuels indoors in unventilated kitchens, the majority women and children.
Speaking at a meeting of the Sustainable Energy for All Initiative (SE4ALL) in New York, International Development Minister Lynne Featherstone said:
Girls and women suffer most from a lack of access to reliable and efficient energy sources. In Africa, women can spend four hours per day collecting firewood, time when they are vulnerable to violence and that could be better spent learning or working, while 60% of adult deaths from indoor air pollution are also women.

Sustainable energy is essential not only for alleviating poverty, expanding opportunity and driving economic growth it also provides a safer environment for families to live in.
DFID will provide:
£4.5 million to the ENERGIA International Network on Gender and Sustainable Energy, for research on clean energy access for girls and women
£7 million to the Global Alliance for Clean Cookstoves to help them meet the target of 100 million clean cookstoves by 2020. Lynne Featherstone will also join Hillary Clinton on the Alliance's Leadership Council.
Notes to editors
SE4ALL was set up in September 2011 to ensure universal access to modern energy services; double the global rate of improvement in energy efficiency; and, to double the share of renewable energy in the global energy mix.
The 26 November meeting was the second meeting of the SE4ALL Advisory Board, hosted by United Nations Secretary General Ban Ki-moon and World Bank Group President Jim Yong Kim.
Infographic: Sustainable Energy for All - What Will It Take? Is available at: http://www.worldbank.org/en/news/feature/2013/05/28/infographic-sustainable-energy-for-all
General media queries
Follow the DFID Media office on Twitter - @DFID_Press
Published 27 November 2013