Press release
UK targets Swedish market for construction sector growth
Business Secretary confirmed the signing of 2 new construction contracts in Sweden with an order value of nearly £30 million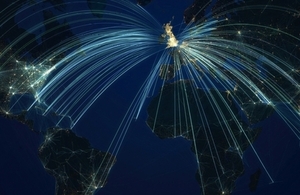 British businesses in the construction sector were given a boost today when the Business Secretary Vince Cable confirmed the signing of 2 new contracts in Sweden with an order value of nearly £30 million.
UK Trade & Investment (UKTI) helped the 2 British companies, Astins and Measom, to win contracts for the New Karolinska Solna (NKS) University Hospital in Stockholm – the world's largest hospital build and servicing project, and one of the most modern hospitals in Europe. Ninety-five jobs have been created or safeguarded in the two UK companies due to these contract wins.
The deals are part of a collaborative project with Swedish construction company Skanska, to secure drywall partitioning contracts and UKTI has worked in collaboration with Skanska from the early stages of the project.
Business Secretary Vince Cable said:
The UK has world-class expertise in architecture, design and engineering, and British companies, from the largest to the smallest, are leading the way in sustainable construction solutions.

The announcement that Astins and Measom have secured high-value contracts on a major Swedish infrastructure project underlines the fact that construction is a sector where Britain has a strong competitive edge and shows why we are working hard to help more UK firms gain business overseas.
For companies looking to succeed in the Swedish construction market, winning business is only one key element. Understanding Swedish labour law, building legislation, taxes and the price index are all crucial to success.
UKTI's collaboration with Skanska on this project involved managing the market entry process by assisting and supporting the UK companies wishing to explore this project further, and ensuring they had the information required to 'price-up' their tenders so they were realistic and competitive. This process ensured that the UK companies were successful when pitted against established domestic Swedish bidders as well as existing and potential international competitors.
Andrew Measom, Managing Director of Measom, said:
This project signifies a remarkable milestone within the company's development, and is a great opportunity to establish Measom as a specialist delivery partner in Europe. Having access to UKTI and its range of professional services was invaluable to us and since securing the contract the organisation has continued to offer help and advice. We are sincerely grateful.
Dominic Tutt, Managing Director, Astins Bygg AB, said:
We are thrilled to be involved in working in Sweden to deliver this project. It represents a wonderful opportunity for us to showcase our expertise in the Swedish market and to learn from our Swedish colleagues. We are convinced that our joint collaborative working practices will result in a world class facility upon completion.

Our thanks must go to UKTI who have supported us every step of the way and continue to do so now. We plan to rely on their support going forward as we look to continue our expansion into Europe and beyond.
Johan Karlström, CEO of Skanska AB said:
Our cooperation with Skanska UK and other UK companies has been instrumental in the bidding phase as well as in the construction of the NKS hospital. Besides bringing valuable knowledge and experience of major healthcare projects they have also contributed to the work place safety of the NKS project.
Notes to editors
Sweden:
Trading links go back centuries and are strong. In 2012, Sweden was the UK's 13th largest export market and the UK is Sweden's 4th largest supplier (both goods and services).
Major UK exports to Sweden: road vehicles, petroleum products, medical and pharmaceutical products.
Major UK imports from Sweden: paper, board and pulp, telecommunications equipment, pharmaceutical, road vehicles, fuel, wood, iron and steel and general industrial machinery.
The UK is the 4th largest market for Swedish FDI, behind the US, Finland and the Netherlands, with a value of SEK185 billion (£18 billion). It compares favourably to Germany (SEK125 billion / £12 billion) and France (SEK43 billion / £4 billion).
Almost all of Sweden's world-class companies have invested in Britain. There are a total of 560 Swedish firms in the UK and during the period 2006 to 2007 to 2011 to 2012, UKTI recorded 219 new FDI projects from Sweden into the UK.
There are over 1,300 UK-owned firms in Sweden.
Historically, Skanska, Ericsson, Volvo, H&M and SCA have been Sweden's 5 main investors (with regards to revenue) in the UK over the last few years.
The government wants to make the UK the best place to start and grow a business. In the autumn it will launch a public campaign to celebrate GREAT British business success stories. The government wants to inspire other small businesses and point them towards the support that can help them grow. It will also launch a new strategy for how the whole of government will back them. This will set out a range of measures to continue helping budding entrepreneurs and existing businesses succeed.

In the 2012 Autumn Statement, UKTI was awarded an additional £70 million for each of 2013 to 2014 and 2014 to 2015, enabling the recruitment of more international trade advisers around the country, expansion of existing services including the Trade Access Programme (TAP) and the Overseas Market Introduction Service (OMIS), and support to expand the range of assistance available to UK companies through overseas British chambers of commerce.

The government's economic policy objective is to achieve 'strong, sustainable and balanced growth that is more evenly shared across the country and between industries'. It set 4 ambitions in the 'Plan for Growth', published at Budget 2011:
to create the most competitive tax system in the G20
to make the UK the best place in Europe to start, finance and grow a business
to encourage investment and exports as a route to a more balanced economy
to create a more educated workforce that is the most flexible in Europe
Work is underway across government to achieve these ambitions, including progress on more than 250 measures as part of the Growth Review. Developing an Industrial Strategy gives new impetus to this work by providing businesses, investors and the public with more clarity about the long-term direction in which the government wants the economy to travel.
UK Trade & Investment (UKTI) is the government department that helps UK-based companies succeed in the global economy. We also help overseas companies bring their high quality investment to the UK's economy – acknowledged as Europe's best place from which to succeed in global business. UKTI offers expertise and contacts through its extensive network of specialists in the UK, and in British embassies and other diplomatic offices around the world. We provide companies with the tools they require to be competitive on the world stage. For more information on UKTI, visit www.ukti.gov.uk or visit the online newsroom at www.ukti.gov.uk/media.
Published 24 September 2013