UK supports young Iraqi musicians
The British Council and Foreign and Commonwealth Office are supporting this year's National Youth Orchestra of Iraq summer school in Erbil.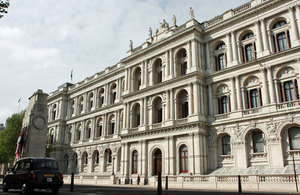 Founded by 17-year-old pianist Zuhal Sultan in 2009, the National Youth Orchestra of Iraq showcases the talents of 42 young musicians from a wide cross-section of Iraqi society. The orchestra performs a repertoire of Iraqi and classical music.
At this year's summer school, from 25 July to 5 August, the orchestra's musicians will benefit from expert tuition from nine international music tutors, including Scottish conductor Paul MacAlindin. In a cultural and musical exchange, the orchestra will also be joined by a bassoonist from the National Youth Orchestra of Turkey and an oboist from the National Youth Orchestra of Italy.
The course will culminate in a concert performance in Erbil on 8 August, featuring the legendary Kurdish folk singer and harpist, Tara Jaff. Alongside Beethoven's Symphony No. 1 and Mendelssohn's Violin Concerto, the orchestra will perform Heartbeat of Baghdad by Iraqi-born composer Lance Conway.
The British Council supported the orchestra's inaugural concert in 2009, and both the Foreign Office and the British Council are pleased to be supporting the continued development of this exciting initiative.
Published 4 August 2010