World news story
UK Supports Transparency in the Municipality of Pristina, Kosovo
This was published under the 2010 to 2015 Conservative and Liberal Democrat coalition government
Ambassador Cliff and Mayor Ahmeti sign a Memorandum of Understanding with local NGO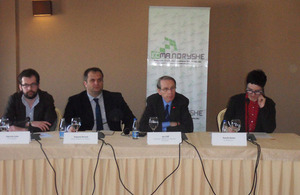 On 18 March 2014, Ian Cliff, British Ambassador to Pristina, Shpend Ahmeti, Mayor of Pristina and Hajrulla Ceku, executive director of NGO EC Ma Ndryshe, formalised their cooperation under the "Online Transparency of Pristina Municipality" project at a joint press conference.
The central component of this project in the Municipality of Pristina is monitoring the work of Department of Urbanism, Construction and Environmental Protection. The project will aim to increase the level of local transparency in decision-making through monitoring of the municipal executive's work. Part of the project will be technical and professional assistance on urban planning in Pristina.
During the press conference, EC Ma Ndryshe presented findings from their research on the urban regulatory plans of the Municipality of Pristina and a preliminary report on the current situation regarding illegal construction in the historic centre of Pristina.
Ambassador Cliff said:
Illegal construction represents a criminal act; it represents a risk to the environment and public safety. Dealing with its impact also involves high costs for municipal budgets. I call all citizens to be more active in reporting illegal construction work to the municipality; for the central and local government to implement and enforce legislation and for civil society to become an active watch-dog and ensure that local and central government are implementing laws.
The Mayor of Pristina, Shpend Ahmeti said:
Transparency is the basis for good governance. Well-informed citizens on important issues become active in decision-making, and when citizens are participative democracy functions. Cooperation with civil society in monitoring decision-making is a natural and healthy practice for any administration. Such cooperation will produce tangible results and increase citizens' trust in the institutions.